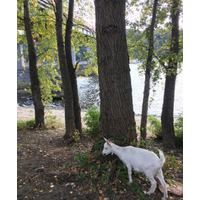 Ugly in October.
By Matt Orr, RPCV Group 37, Verkhnodniprovsk
I.
In the raining cold of October Kyiv is ugly. Roads are even more adventurous than usual with the puddles that form into mini-lakes and seem to stick there, the weather never warming enough to evaporate them before they freeze over in November. As a Peace Corps volunteer based 250 miles (400 km) away from the capital 10 years ago, I had few opportunities to explore the city back then. My main experiences were quick weekend trips where I'd spend as much time on the train going and coming as I would in the city. These were prescribed trips, having to do with dentist or doctor visits, but nowadays with nowhere in particular I needed to go, what would I see?
Gone are the days of booking strange hostels near the train station, sleeping 20 to a room in bunk beds filled with sex tourists and nighttime sleepwalking pee'ers. Now with a disposable income, we got an Airbnb of course! Tatiana, our host, met us in the apartment and once she realized she could drop the difficult English that seemed always to be stuck on the tip of her tongue, she went into full-guide-mode, "For your first experience, walk up the hill to St. Michael's Church where the sun is often shining. Then at night, you can walk down to Maidan where they play music timed with the fountain. There's many people walking there at night and the colors are beautiful in the water – and under the fountain you can have dinner at Puzata Hata!"
We settled in near the Maidan, Kyiv's historic central square which would be known to any international news observer as the battleground for two of the most impactful political revolutions of our time in a country that hasn't turned 30 yet. I was traveling with my partner who had never been to Ukraine before, which would accentuate the touristy-ness of our trip. We made plans to meet up with my friend from my Peace Corps days who had since moved to the capital for work. The plan also included topping off the visit by cooking a big Mexican feast – more on that later. A reunion and a tourist, coming home and feeling apart, staying and planning to leave – I was all too used to all of this!
II.
Amidst the raining and cold we found what a rebranded, reenergized Kyiv is doubling down on – coffee and craft beer. We obliged. There are more than 100 more coffee shops than I can ever remember, and a mobile app that tells you where they are. You can buy American-style craft beer inside of the 100-year-old Besarabsky Market. I saw Buddha bowls on more than one menu. Georgian food, as Kyivans realized long ago, is the best food you will ever eat and to commemorate this realization there is now a spot on every block churning out khachapuri, which I once saw on an English menu described as "boat-shaped bread with melted cheese" – well OK, I'll take it! A magical vessel indeed.
Five years on from Euromaidan, which itself received a nice, museum-ready rebranding now referred to as the Revolution of Dignity (so much more poignant than "Orange"), life in the capital at least seems to have smoothed out and as the economy continues to recover, Kyiv is set to vacuum up the spending power of its citizens and visitors one steaming cup of joe or boat-shaped bread at a time.
Hanging out in modernist coffee shops with exposed dull-yellow light bulbs, dark stained wood, and Pinterest-ready inspirational quotes on the wall I thought there's much to love about what perhaps a Kyiv-based advertising firm will hire me in the future for coining: New Kyiv. I could get used to this place. Sipping craft beer in loud, again dark stained wood-themed bars at night, zipping around in Ubers by day – it all began to feel extravagant, indulgent. Something was missing, or being withheld, lest the enjoyment slip away.
I was thrown off by being a tourist in a place I had never thought of as a tourist destination – my trips before were required travel – and beginning to feel an old feeling again, of familiarity and foreignness. And then, while walking up the hill from Maidan to Mariinsky Park, a feeling I had missed out on something. Something that must have been wiped away, swept up, painted over – out of sight but not out of mind.
III.
When we crested the hill, we were in the immaculate Mariinsky Park, with green and trimmed flowers everywhere we looked. Then I realized, there perhaps one layer deep in the soil by now, is blood. Out of sight but not out of mind. Between January and February 2014, 30 people lost their lives in and around the same park, including the first victim of the Revolution of Dignity, Serhiy Nigoyan, himself the son of immigrants fleeing war in Armenia. The park is also home to a mass grave, much further down in the soil, for Kyiv's "defenders" during Ukraine's first attempt at independence from Moscow-backed Bolsheviks 100 years ago – Mark Twain once quipped, "History doesn't repeat itself, but it often rhymes."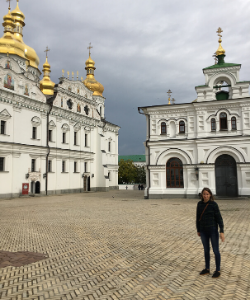 Once I began thinking about the hidden layer of anguish and turmoil, I saw it everywhere. Reminders in the form of neat little golden plaques to commemorate the sacrifice, the violence, the deaths. On the street of our Airbnb there was one such plaque that told of two protestors who were gunned down on the same street by Berkut (formerly Ukrainian special police forces, now defected to Russia). Go to St. Michael's Church, the one our Airbnb host suggested receives special sun treatment perhaps direct from God and you'll see a huge, beautiful yellow-bricked square as it's been for over 900 years, but one that served as an encampment, cafeteria, and hospital for Euromaidan protestors.
Then you have the Maidan itself, which today looks as it did 10 years ago: hawkers selling little blue and yellow trinkets and on one corner a McDonald's selling "Ukrainian-style burgers" that look like a McRib with extra onions. This place was ground zero for the Euromaidan protestors, in images from that time that became internationally famous you see a place that looks more like a war zone. Imagine the color-coded fountain of today where water jumps to the rhythmic timing of classical music, which itself serves as the roof of an underground shopping mall, as the same site for the charred black bricks, smoke, trash, and debris that served as makeshift barricades against an active war with police fought with live ammunition. And the torn and blackened blue and yellow flags that flew here have now been sewn up, washed, and ironed out.
IV.
When the weather cleared up, we continued our exploration, but this time were allowed outside of the confines of coffee shops and bars. We walked across the new pedestrian and cycling bridge from Volodymyr Hill to Khreshchaty Park. On our way we stopped and gawked, with many interested locals around, at the architect's decision to put glass windows on the path which look straight down several hundred feet below. Many people tested these windows, stepping out onto them but never venturing too far from the edge. We continued our path down the hill toward the Dnipro River.
Walking across the busy pedestrian bridge that spans the Dnipro River and connects Kyiv's central district to Trukhaniv Island, there are entrepreneurs set up on either end selling you the experience of jumping off the bridge, harnessed in. Jumping off the bridge without a harness is still free. On the island we got into nature quickly, past the initial area of sandy beaches it's a short walk to a small creek that runs through the middle of the island, and along the sides a thick forest, with trees not quite ready for autumn dress but still favoring a lighter green turning to yellow shade. Standing there, I could be anywhere in the world, in the Arkansas and Mississippi delta not far from where I grew up, or in Verkhnodniprovsk where I lived for two-plus years as a volunteer. Still, little signs of the city behind us seep into the picture, among the family of mallard ducks hugging the bank, each drake paired off with a hen, there were a couple of kayakers zipping by, passing one another headed in opposite directions.
On the way back to the bridge which takes you back to the city we passed grazing goats tied up on the riverbank. Then on the bridge I noticed a message sprayed in huge black letters against a white background on the embankment wall below: HORSES ARE RUSSIAN WHORES. Everyone I talked to had a different theory about what it meant.
V.
When the weather turned sour again the next day, we ventured to the city center, to Besarabsky Market and then across the street to the Pinchuk Art Center. These differing versions of Kyiv, the smelly indoor market where you can buy the entire head of a cow, eyes and all, and the sleek modern art museum across the street, all gray and glass, don't seem to want to play nice with one another. Immediately upon entering the Pinchuk Art Center my partner's recently purchased homemade pickles from across the street were confiscated (you can pick them up on the way out!). I wished in that moment we'd have had a babushka with us to give these security guards what for and put them in their place, but instead we passed by and climbed the stairs.
The Pinchuk Art Center was started by a man, Victor Pinchuk, who named it after himself. He's a billionaire in a country where a fresh loaf of bread costs less than 50 cents, and the third richest Ukrainian alive according to his Wikipedia page. I met former President Bill Clinton several years back, we are from the same little area in southwest Arkansas, and I thought this would give us much to talk about. But upon hearing that I served in Peace Corps in Ukraine he only wanted to tell me about his close friend Victor.
The main exhibit there, by Kharkiv-born, Ukrainian photographer Boris Mykhailov, was a collection of work from the Soviet period up until modern day and offered a skewed but poignant chronicling of Ukrainian life, focusing on Kharkiv life which is near the Russian border. For example, one collection of photos is called Case History from 1997-1998, where Mykhailov took pictures of Kharkiv's homeless i.e. those left behind in young Ukraine's drive toward prosperity through trying on a special brand of oligarch-controlled capitalism. In one scene from Case History, a man sits shirtless smoking a cigarette in front of a tree, a stoic woman stands beside him, in the background snow covers everything. On his bare chest rests an artfact: a tattoo of a side-profile of Lenin with his trademark staring off into the distance, perhaps wondering where his work has gone. When I was in Ukraine as a volunteer I could see Lenin many places, usually in statue form, in Kyiv at the major intersection of Khreshchatyk and Shevchenko thoroughfares, or watching over the patrons of ATB grocery store in my hometown's square, but this was the only time I saw him this trip: tatted on the chest of a homeless man whose photograph was hanging in an art museum. In the same exhibit, written large on a red wall in white lettering there were three lines:
Truth was something we searched for our whole lives
Only to find the truth has crumbled beneath our feet
Now truth is played like a game
VI.
On our last gray day we headed back up the hill in an Uber, this time going past Mariinsky Park to the Kyiv Pechersk Lavra or Lavra for short. The Lavra, which sits on a hill overlooking the Dnipro River, was founded in 1051, which means for many years it was not serviced by Uber. It is known for mummified saints, monks, and other notables who were buried in caves there which act to preserve the bodies. There are also many other semi-related museums on the expansive grounds of the Lavra, one of which is the National Folk Decorative Art Museum. Our favorite exhibit showcased the traditional folk dresses of women in tall glass cases, with beautiful, intricate red embroidery on white cloth. The colors are so vibrant, perhaps even more so in comparison to the gray October skies of the day and muted fashion of modern-day Ukrainian streetwear. Also, in this museum are numerous works by Kateryna Bilokur, a painter I had never heard of before. She painted dazzling, colorful, and vibrant still lifes of flowers and fruit all the while living in Nazi-occupied Ukraine.
We decided to walk back to the Maidan area from the Lavra, which took us by the Presidential Administration building. In front we saw, in a sizable area which until recently was closed to the public for fear that if it were opened it would become the site of a never-ending perpetual protest, a protest. I'm not sure what it was for, it could have been for the controversial peace deal in the still-warring east, a lackluster visit from the International Monetary Fund, or the resignation of a reformist cabinet member, but there were definitely no signs that read "Biden".
VII.
Later in the evening we all gathered for that required Ukrainian tradition: a homecooked Mexican feast. My friend had become obsessed with the cuisine in my pitiful attempts to recreate it through what was available in my small-town grocery store and the meager contents of a couple care packages. I knew what my gifts for him had to be this time: chipotle pepper in adobo sauce, marzipan candies, and mezcal tequila. That night we whipped up frijoles refritos for making veggie tacos, with tortilla chips and salsa on the side.
As is customary in Ukraine, there comes a point in every sit-down meal, and they're almost all sit-down meals, where you give a toast and pour your heart out in the process, laying bare what's on your mind and weaving in deep feelings about those around the table you would never tell them in any other context. But, as still sort of young modernists we couldn't be bothered with tradition, and so bypassed this formality. I was relieved. I often dreaded these moments where one is called to "speak from the soul" as it would be translated from Russian, and besides in that moment I didn't know what my soul would say.
After dinner I walked my friend to the metro station alone, knowing it would be the last time I would see him since we flew out the next morning. Standing on the Maidan, the wind and rain whapping at my face, telling my friend goodbye on our last night in the city, I said something to him that I never thought or felt before, not at the beginning of this decade or since, but there I was, Berehynia on her column keeping a watchful eye on McDonald's, and me saying, "It felt a little like coming home."
---