Responding to the War and Humanitarian Crisis in Ukraine
On February 24th, 2022, Vladimir Putin launched a full-scale military assault on Ukraine, including attacks on civilians. Many of our friends and family members have fled; many others are staying and fighting to defend their communities.
Ukraine RPCVs have rapidly mobilized to assist our Ukrainian friends, family members, colleagues, and communities. We are advocating, sending donations of money and supplies, engaging mass media, and directly assisting friends in need of transportation, housing, and money to survive. 
Individual First Aid Kits Campaign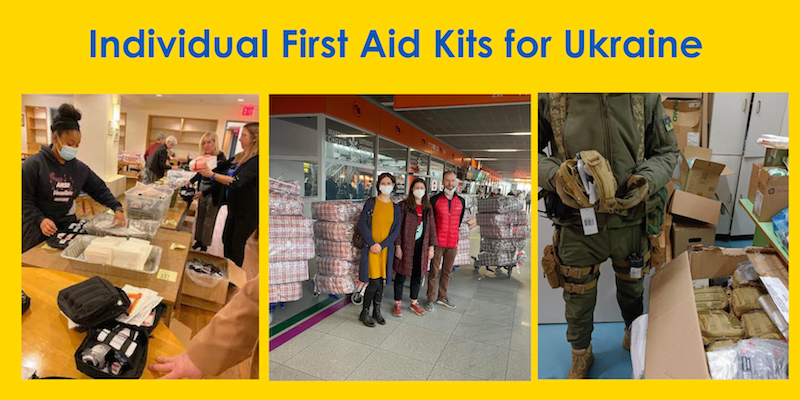 Since the beginning of the invasion, our team of RPCVs and Ukrainian partners has delivered more than 2,000 high-grade Individual First Aid Kits to high-priority areas within Ukraine, where these kits are desperately needed. This effort has continued to grow to meet the need. We rapidly deploy the funds we are raising, and are grateful for additional support. 
Babusya's Kitchen Cookbook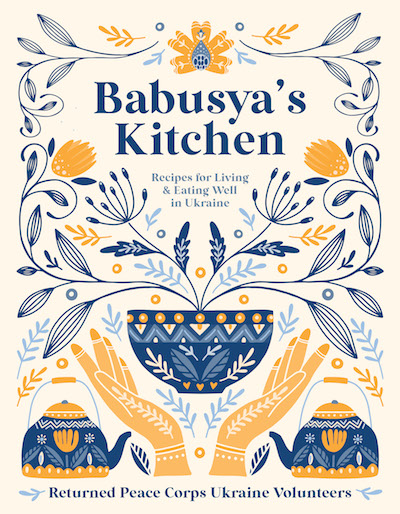 Our team of Returned Peace Corps Ukraine Volunteers is excited to present you with a very special cookbook fundraiser for Ukraine: Babusya's Kitchen - a cookbook originally written for Volunteers to use during their two years of service in Ukraine. As of the writing of this new edition in March 2022, there are no Volunteers in Ukraine—only an unwanted and unprovoked war. As an act of peaceful protest, the RPCV Alliance for Ukraine—in direct support of the Peace Corps' 3rd goal to strengthen Americans' understanding of the world and its people—is republishing Babusya's Kitchen to raise funds for Ukraine relief efforts. 
We are now accepting pre-orders! Proceeds from book sales will support humanitarian aid and help protect Ukraine's cultural legacy. 
Advocacy
Current Actions
Write an Op-Ed about Ukraine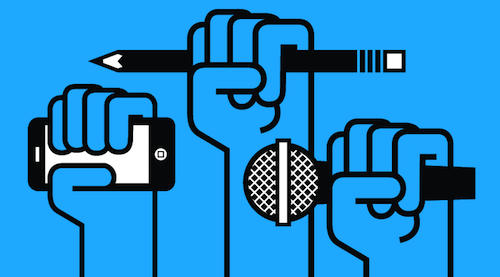 On March 9th the National Peace Corps Association (NPCA) hosted an op-ed writing workshop for RPCVs interested in writing about the war in Ukraine. Ukraine RPCVs have been speaking their truth about the Russian invasion in so many ways over the past weeks. This includes members who have submitted and seen their opinion pieces published, due to their unique perspective about the crisis.

To see the full list of steps to take when writing an op-ed, go over to our op-ed article.

If you would like to see the full recording of the event, check out our Youtube Page!
Call on your University to Welcome Students from Ukraine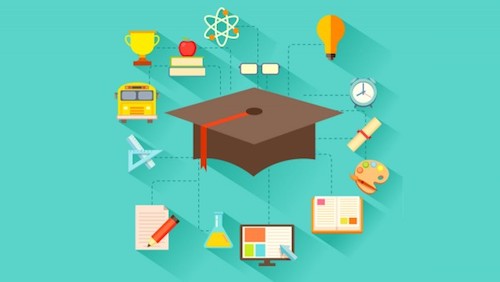 Universities can offer important support by welcoming Ukrainian students as well as the international students who  had their education in Ukraine interrupted. Use this letter template to reach out to your alma mater and encourage them to simplify admissions processes and provide scholarships for students who are now no longer able to study in Ukraine. 
No Business as Usual in Russia - Put Pressure on Companies to Suspend Operations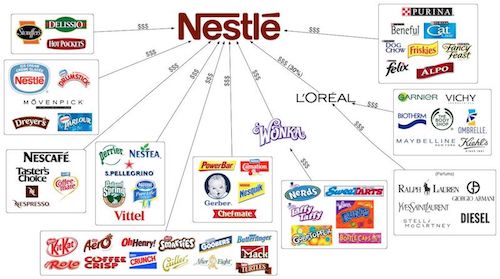 Public pressure has successfully convinced numerous companies to at least temporarily suspend operations in Russia, but several major companies continue to operate there, despite public outcry.
There is an extensive  list of companies and the actions they have taken in response to Russia's attack on Ukraine by Yale University School of Management. 
Major companies that have refused to leave Russia include: 
Koch Industries - Tweet at Koch Industries | Contact them through info available at Better Business Bureau
Subway Sandwiches - Join the call to #BoycottSubway on Twitter | Email Subway's press contact, press@subway.com
Nestle Products - register a complaint using the SpeakUp platform | Tweet at Nestle | Email CEO - mark.schneider@nestle.com | Avoid purchasing Nestle-owned brands and products 
Completed Actions
Letter-Writing Campaign to US Leaders
In the lead-up to and early days of the invasion, the RPCV Alliance for Ukraine launched a letter-writing campaign that, with your participation, resulted in nearly 4,000 letters being sent to the Biden Administration and Congressional leaders. Many of the actions called for in these letters have since been undertaken, including strong sanctions against Russia, cutting Russia off from the SWIFT banking system, and significant humanitarian and defense aid to Ukraine.
 
Petition to Peace Corps to Prioritize Protecting PCUA Staff and Partners
More than 750 RPCVs and allies signed our petition to persuade Peace Corps CEO Carol Spahn that we support priority refugee status for Peace Corps Ukraine support staff, counterparts, and host families. You can see the letter and comments, which were sent directly to PCHQ on March 21st, below.