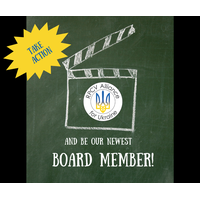 Interested in taking a leadership role with the Alliance, polishing those professional skills, and building your personal network? Come join the Board!
Although we accept Board applications on a rolling basis, we are eager to fill two key positions: Communications Lead and Board Treasurer. This vacancy announcement will close Saturday January 30th 2021. All current Board members will review each application and a selection will be made at the February monthly Board meeting.
For a full description of both positions, see the attachments below.
The Communications Lead works with the Board to manage the organization's social media, update the website, collect content for the monthly e-newsletter, and coordinate with Communications Committee members.
Responsibilities:
Edit monthly e-newsletters to Alliance subscribers using MailChimp

Post content to the Alliance Facebook page on weekly basis

Update the Alliance website when necessary

Ensure that public content follows the Alliance style guide

Hold periodic meetings with members of the Communications Committee, delegate tasks, and train new members on various platforms
The Board Treasurer assumes responsibility for all reporting to the Internal Revenue Service, manages the organization's BB&T bank account, and provides monthly updates to the Board of Directors.
Responsibilities:
Manage all financial transactions of the Alliance including purchases, reimbursements, and revenue

Ensure that all Alliance bills are paid in a timely manner

Provide a brief fund status report at monthly Board meetings

Ensure that all Alliance registrations & taxes documents are filed

Provide financial summary for the annual report

Propose an annual budget for Board approval
Please also note that these are volunteer roles.
Application Instructions:
Download and fill out the Board application in a PDF reader (not in web browser), save to your hard drive, then email it to allianceforukraine@gmail.com with the subject line: Board Application. Resume and additional documents are optional.
---