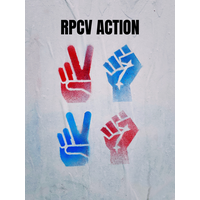 Alliance for Ukraine
Quarterly Equity and Social Justice Report
November 2021
Gratitude
Despite the complicated history surrounding it, Thanksgiving Day is the perfect time to reflect on who and where we are in this world.
In her beautifully written and inspiring book, Braiding Sweetgrass, Indigenous botanist, professor and poet, Robin Wall Kimmerer writes:
"You can't listen to the [Haudenosaunee] Thanksgiving Address without feeling wealthy. And while expressing gratitude seems innocent enough, it is a revolutionary idea. In a consumer society, contentment is a radical proposition. Recognizing abundance rather than scarcity undermines an economy that thrives by creating unmet desires…. The Thanksgiving Address reminds you that you already have everything you need….That's good medicine for land and people alike."
Be inspired: Haudenosaunee Thanksgiving Address Greetings to the Natural World
An extra special object of gratitude this Thanksgiving: Justice for the family of Ahmaud Arbery and a pensive hope that the criminal court systems will continue to push back against racist attitudes and procedures nationwide. (Looking at you, Wisconsin) #justiceforahmaud
Here are the latest social justice happenings in the Peace Corps adjacent world:
The RPCV Alliance for Ukraine
Co-sponsored, with Returned Peace Corps Volunteers of Washington DC, and three other RPCV Affiliate groups: No White Saviors + Returned Peace Corps Volunteers: Reflecting on the White Savior Complex and What it Means to Decolonize Partnerships session on Wednesday, November 17. This provocative virtual education event was attended by over 400 participants around the world, including from Kyiv. If you were unable to join the event, watch the recording here:

Session Materials

More About No White Saviors
At its October 28, 2021 meeting, The Meaningful Diversity Equity and Inclusion Working Group of OrgsinSolidarity reviewed and offered helpful comments on the Alliance's DEI Events Checklist. As mentioned previously, this document is evolving as we learn what works and what doesn't. Speaking of what works and what doesn't, at the same meeting, guest speaker, Dr. Vic Marsh, an expert in Diversity and Equity programs in the federal government provided insight on research that showed that based on EEOC records of U.S. companies with over 100 employees, mandatory diversity training actually reduces the diversity of the workforce within the next five years. On the other hand, the research showed that high level Diversity Task Forces that are focused on problem solving are highly effective, as are mentor matching programs.


In September, the Alliance was a co-applicant with Northern Virginia Returned Peace Corps Volunteers for a grant from the National Peace Corps Association (NPCA) to implement an Anti-Racism program specifically designed for RPCVs, which was piloted last year by NOVARPCV. The idea is to scale the reach of the program by training two members from 10 Affiliate organizations to provide the six-week anti-racism course to up to 20 participants from each organization. We are still waiting to hear the official word from NPCA, but since we were encouraged by them to apply for this grant, we are hopeful that we will begin the train-the-trainer classes in the new year and be able to roll out the program to Alliance members mid 2022. More to come on this exciting opportunity!
Peace Corps Ukraine
In September, Peace Corps Ukraine staff participated in Kyiv Pride 2021 in support of the LGBTQI+ community. As they put it in their Instagram post: "We stand by the principals of equality, non-discrimination, and respect for all."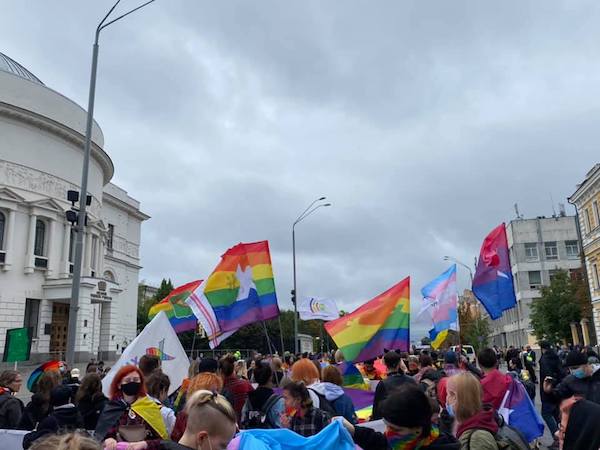 Photo courtesy of Peace Corps Ukraine, September 2021
National Peace Corps Association
If you missed the Peace Corps Connect 2021 Conference in September, here are two videos of interest :
Peace Corps Headquarters
Here is Acting Peace Corps Director Carol Spahn responding to Rep. Karen Bass (D-CA) at a U.S. House of Representatives Foriegn Affairs Committee when asked about recruiting new Volunteers who are people of color.

In early November, the Peace Corps released a report from its Sexual Assault Advisory Council. Here is a summary and analysis put together by NPCA. Many of the proposed key reforms to protect PCVs from violence and trauma will be familiar to Alliance members as similar to those contained in "Changes Necessary for the Safety of Black and POC Volunteers in Ukraine", a list of exhortations compiled by Ukraine PCVs in 2019.
---