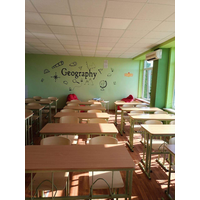 Peremoha is the Ukrainian word for Victory.
The Peremoha Mini-Grants program was launched in the summer of 2022 in response to the Russian military invasion of Ukraine. Returned Peace Corps Volunteers could apply together with a Ukrainian partner they had worked with in some way during their service. Funding priorities for the program included humanitarian aid to Ukrainian communities, and projects in alignment with sectors previously implemented by Peace Corps Ukraine: community development, youth development, education, and HIV/AIDS prevention and treatment. We are proud to share with you the stories of the Alliance's Peremoha grantees.
---
RPCV: Sarah Friedman (TEFL, 2011-2014)
Ukrainian Partner: Lidiia, Educator
Region: Poltavska Oblast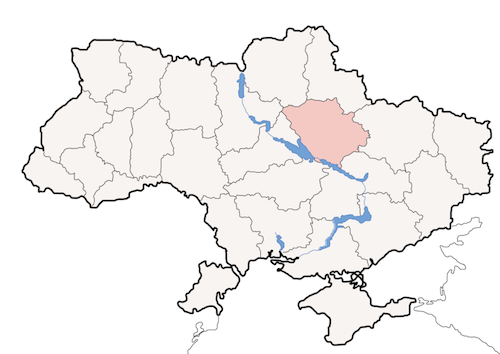 While working in Ukraine with the Peace Corps, I lived in a small town with an excellent school. I taught there for three years. After leaving Ukraine, one of my fellow teachers, Lidiia, became the school principal. She said if I send her donations, she will be able to give them directly to students. Because my town is smaller, it's accepting internally displaced students (IDS) from across Ukraine. At the time we submitted the grant application, Lidiia's school had taken in about 60 kids, but she said that, as the war continues, there will probably be more (and that has proven to be the case).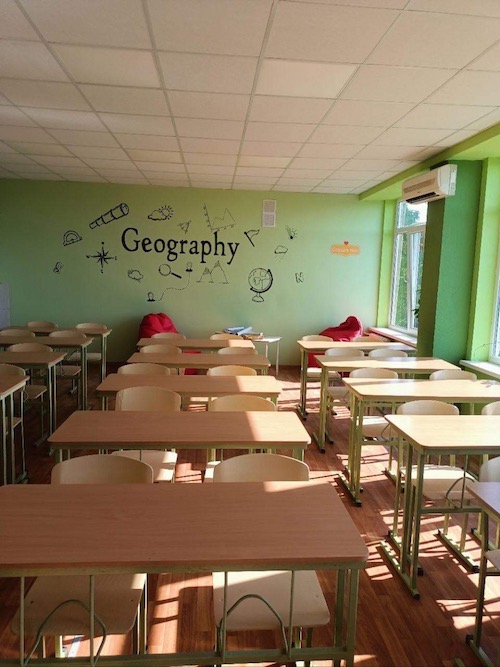 "We are hiding periodically in bunkers but still teaching children online. My teachers work from home, my supervisors and I work from school. We have learnt to go very quickly in the street between the signals of sirens, to sleep half dressed, to take a shower in 3 minutes, not to leave dirty dishes, because we are not sure that we will be able to wash up later, we have learnt thousands of things which didn't exist in the normal life. But we have learnt to appreciate simple joys like to awaken, to be able to clean teeth, to wash clothes, not to be hungry. "—Lidiia, school principal.
I asked Lidiia what we can buy to help her help the children who were forced out of their hometowns and are in need of an education. She said she is building a classroom for her students. Parents and other volunteers around the town offered to help repair old desks so she wouldn't have to buy new ones. She also found people who would repair lights in the newly furnished classroom. We applied to the Peremoha Mini-Grants program and received a grant for $1,500. Lidiia raised the rest of the money to create a new classroom for her students. A quick thinker, she asked for funds for a computer, printer, and laminator so she could copy materials as more students came to her school. She also asked for a speaker to help make announcements through the school for student safety.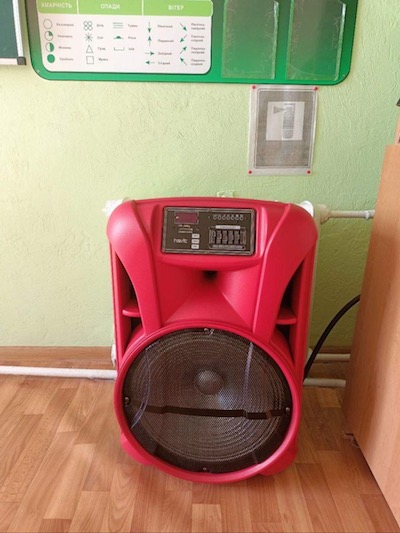 This speaker is important for safety announcements. Students may need to take shelter at a moment's notice.
300 students now go to Lidiia's school while hundreds are still learning online from home. To ensure student safety, she is creating a classroom in the basement and creating a second exit to the school. Once construction is finished, her school will be the safest place for anyone to be in the town.
The video at below shows her hard work:
---
The RPCV Alliance for Ukraine is able to make grants thanks to proceeds raised by sales of the Babusya's Kitchen Cookbook and your additional donations. Please give today!
---