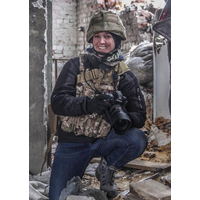 J.T. Blatty Shines A Bright Light

On Ukraine's Volunteer Soldiers.
By Michael Andrews RPCV Response Ukraine
You hear many motivations voiced by Peace Corps volunteers who served in Ukraine – interest in eastern Europe, resume building, world travel, career transition, retirement adventuring. Hopefully, we were all committed to making the world a better place – JFK's original premise for Peace Corps service. Whether advising local governments on fiscal operations, teaching English in village schools, leading camps for HIV positive children or other jobs, we took small steps to plant the American flag. We worked hard to stay safe and align our expectations with the goals of goodwill diplomacy.
Another group of volunteers in Ukraine has much more at stake. They all share the singular aspiration of shaking loose from history to achieve real democracy for their country. Many citizens who protested in the streets of Kyiv in 2014 took their fight for freedom to the eastern front to combat Russian annexation. Those volunteers continue to fight and die today, six years later.
There is no better perspective from which to observe the reality of those brave Ukrainian volunteers than through the lens of photographer and documentarian, J. T. Blatty, a former United States Army Captain, who has been documenting the front line struggle in eastern Ukraine for the last three years. J.T. was drawn to Ukraine by her desire to return to a combat zone and the unique camaraderie she feels as part of a community of veterans.
"I ran into my West Point classmate, Dylan Tete, in New Orleans three years ago," J.T explains. "I was searching for something bigger. I had just finished my book Fish Town (a documentary project about the disappearance of southeastern Louisiana's fishing communities). Dylan introduced me to John Boerstler, the CEO of Combined Arms, a veteran's services agency in Houston who is working on veteran issues in Ukraine."
As a part of John's German Marshall Fund Fellowship, he created a summit about US/Ukraine collaboration on veterans' issues. John invited Dylan and J.T. to present at the conference. J.T's interest in war photography and storytelling born during combat service in Afghanistan after 9/11 and in Operation Iraqi Freedom came into clearer focus after collaborating with John and Dylan about the issues in Ukraine.
"I started researching, trying to understand the war. I was really confused. I said to myself, who are these veterans in Ukraine. Are they official? Then I learned about their whole volunteer movement."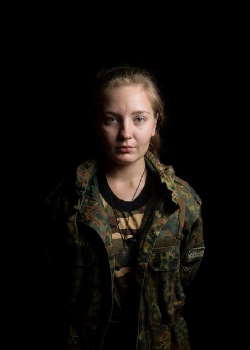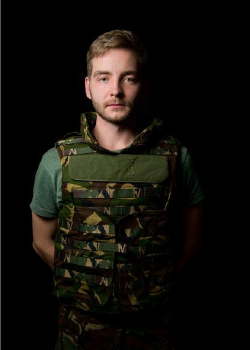 To deepen her understanding, J.T. began corresponding with two volunteer soldiers in Ukraine, Alina Viatkina and Dmytro Lavrenchuk, both veterans of the Maidan uprising. After Maidan, Alina launched a Twitter-powered effort to collect medical supplies for volunteers fighting in the east. She hitchhiked to the front to deliver the supplies and stayed to work as a paramedic for the Right Sector Volunteer Corps. Dmytro was working in marketing in Kyiv when the revolution erupted. After Crimea was annexed, he took a bus to the Luhansk region where he fought to defend local villages with the Aydar Volunteer Battalion. Dmytro was seriously wounded by a grenade launcher attack during his service.
Alina and Dmytro inspired J.T.. She flew to Kyiv to meet them. It was then that her search for "something bigger" took her to the front lines, accompanied by her new Ukrainian allies. Her life became a collision between her experience in the American army and the realities for Ukraine's volunteer soldiers.
"There was one month in 2018 when I must have interviewed 15 people, sometimes three in one day," J.T. explains. "I was like this is too much to soak in, it was so intense."
In the midst of that intensity, J.T. began to understand the dramatic differences between her military service and what was happening in eastern Ukraine.
"I had an enchantment with those volunteers. There was a stark difference between what I was used to in the military and them. Their army was relying on volunteers, because they just didn't have enough, they were underprepared and under equipped," J.T. says.
"I was blown away by their concept of patriotism, which is so easily thrown around in the U.S. Those kids reminded me of what I feel would be comparable to Revolutionary War patriots. They weren't paid, many were untrained – they were risking their lives for something they truly believed in. In my experience of combat deployments, it didn't matter what I believed in. Uncle Sam said go, so we went," J.T. says.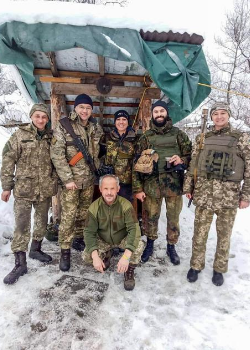 "Volunteers came to help fight," she says. "They had proximity to home. It wasn't Afghanistan. There you would never just go see your friends for the weekend. At the front in Ukraine, civilians are riding their bicycles through (military) positions," J.T. says. "It's the wild west."
J.T.'s exemplary work in Ukraine's chaotic world garnered international attention. She completed a photo exhibition of volunteer soldier portraits and stories called Frontline – Peace/Life that "tells the story of a generation of citizens, who of their own free will and without obligation to the government, deployed into a warzone and risked everything to defend their homeland against a Russian-led insurgency…" according the exhibition catalog. The exhibition was shown at the Ukrainian National Museum of Chicago in 2019 and opened early this year at the Ukrainian Institute of America in New York City where it will be displayed until the end of August. (You can view the exhibition here: https://bit.ly/31fULBT.) J.T. recently received a Fulbright Scholarship to continue her work in Ukraine, although the award has been pushed off until January 2021 because of the Covid-19 pandemic.
In the interim, J.T. is staying in Kyiv and traveling to the eastern combat zones as often as possible. Those are places forbidden to Peace Corps volunteers since 2014. Since those early post-Maidan days, many of Ukraine's original volunteer soldiers have joined the regular armed forces to continue the fight. Others have left the war for a while, only to return as volunteers or army soldiers.
"The war has gotten much more political," she says. "In the beginning, the volunteers were fighting with passion for a real cause. Now some of them believe they fought in vain. Before, they just got on the train and went to the front lines. Now that the military has taken over, the war seems just as political as any other war that I've been part of," she says.
J.T. is determined to bring home authentic stories of the conflict and life in Ukraine, describing experiences of volunteer soldiers who fight to protect their homeland and civilians impacted by the undeclared war that has killed 4,500 Ukrainian soldiers and displaced more than 1.5 million civilians. She has taken to interviewing and photographing civilians living in the "gray zone" of conflict, although she cannot publish their photos for fear of exposing them to attack by insurgents.
J.T. insists that Ukrainian soldiers, especially those who volunteer, struggle to deal with the emotional, psychological and physical effects of the conflict. In many cases they take their physical wounds and the PTSD from war back home with no support. As any Peace Corps volunteer who has served understands, Ukraine is still struggling to institutionalize networks of care for veterans and other vulnerable people – human rights that protestors at Maidan hoped to attain. That is a work in progress.
How does J.T. sum up what she has learned so far? She is philosophical.
"There is a certain universality among all combat veterans," J.T. says. "We are all a family. That could be with armies you think are enemies. When it comes down to it, we all have a shared experience. I wish I could shine a light on people on the other side who are just obeying orders, like all soldiers usually do. It would be interesting to hear some of their stories some day."
With J.T.s drive and commitment, it won't be surprising if her next big thing makes us all a little more enlightened about war and politics that increasingly seem to impact us all. Hopefully, what we learn can help us all make the world a better place.
To learn more about J.T. and her work, visit jtblatty.com.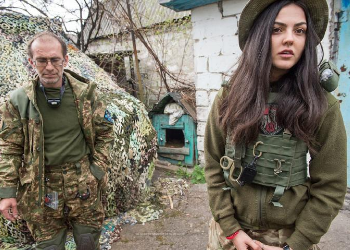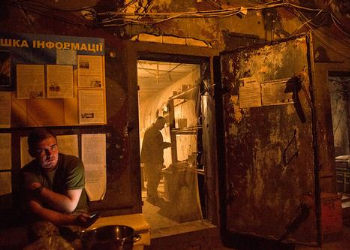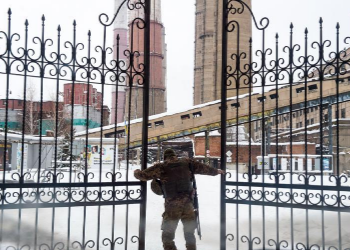 ---