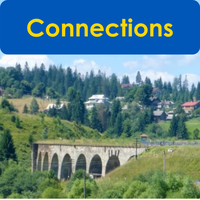 The RPCV Alliance for Ukraine's Evacuation Mentorship Program demonstrated Ukraine RPCVs' capacity and willingness to share our experiences and support one another. Now that the program has ended, we are excited to launch a new effort to connect the large and diverse network of Ukraine RPCVs.
To build on recent mentoring successes and as part of our continuing commitment to incorporate equity into our actions and programming, the Alliance for Ukraine will launch the Connections Program in summer 2021 to provide mentorship, networking, and professional development opportunities for Ukraine RPCVs. The Connections Program will include both one-on-one mentoring and professional development events within our community, taking into account the unique challenges faced by Black PCVs and RPCVs, other minority Volunteers and Volunteers of color, LGBTQIA+ Volunteers, older Volunteers, and those belonging to religious minorities. It will be open to all Ukraine RPCVs, regardless of how long ago you completed your service. Through the Connections Program, Ukraine RPCVs can support each other as we go through relocations, changes in career, and other transitions. When in-country operations resume, the program will provide mentoring support to future returning Volunteers and connect them to RPCVs who have interests or backgrounds in common with them.

We are looking for your input to shape the development and launch of the Connections Program so that it meets a full range of diverse RPCV needs. We especially encourage BIPOC, LGBTQIA+, and older (60+) RPCVs to get involved. Sharing your skills through being a mentor or presenting at a professional development event can be a great addition to your resume, while participating in any capacity can connect you to people in interesting fields and help you build your network.
Are you interested in finding out more and helping get this effort up and running? Here are some options:
Take this brief survey that will help us to both assess needs and identify potential participants
Email connectionsukraine@gmail.com with any questions or if you are interested in joining the Connections working group that is overseeing program development and launch.
---