Support a Peace Corps Project in Ukraine
In an effort to be a conduit between Ukraine RPCVs looking to stay involved and current Peace Corps Volunteers looking for funding, we're highlighting opportunities for donating directly to projects in Ukraine. 100% of your donations go straight to the volunteer project highlighted.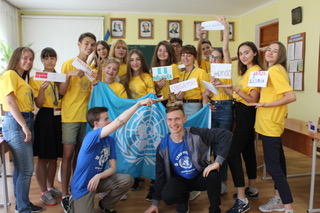 CAMP MODEL UN is a week long youth camp where Ukrainian students 8th-11th form learn and grow through simulation activities and leadership programming. Global cooperation, international affairs, and debate are just some of the hard skills participants develop; however, the soft skills such as team building, trust, and self-confidence are just as prevalent and important. Ukrainian and Peace Corps staff work tirelessly before the camp to support the research necessary to serve as strong delegates and then shepherd this knowledge into the educational lessons and United Nations simulations. This project is only possible through the support of the Vynohradiv, Zakarpattia community and from donations to our grant. You can be the reason these youth begin their own international development stories by generously donating!