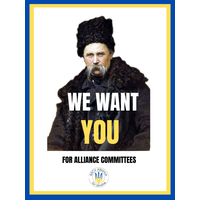 We Want You...for Alliance Committees!
Two of our committees are growing and we want YOU to join us! Both the Impact Committee and the Community Committee are seeking multiple people to help fulfill the goals of our organization. Are you interested in continuing or renewing your commitment to the Peace Corps ideals in Ukraine? Check out what we're in need of and send an email to allianceforukraine@gmail.com with information about what interests you. We can't wait to work with you!
IMPACT COMMITTEE
Impact Committee Chair
• Support the implementation of the Alliance strategy
• Biennial review of Alliance strategy
• Develop and manage Committee annual operating goals
• Facilitate committee meetings
• Manage and monitor projects under committee's umbrella
• Recruit and train committee members
• Host regular meetings/maintain bi-weekly contact with committee members
• Report and evaluate committee activities
• Contribute to and evaluate committee's progress for annual report
• Be a dues paying member of the organization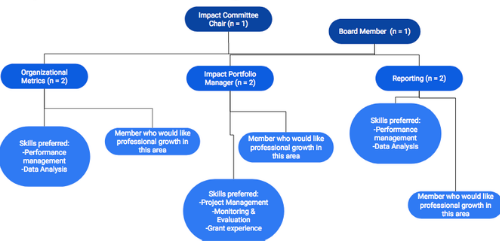 Organizational Metrics Analysts
Impact Portfolio Managers
• Monitoring & Evaluation
Reporting Analysts
COMMUNITY COMMITTEE
Membership Coordinator
• Responsible for checking membership expiration dates and sending reminder emails for renewal.
• POC for anyone interesting in learning about what it means to be a member or questions about signing up.
• Encouraged to seek new members and grow membership base of the Alliance.
Regional Officers Coordinator
• Responsible for recruiting and managing Regional Officers (ROs) who serve as the primary point of contact for the Alliance in a particular geographic area (currently 7 regions).
Regional Officers (Northeast, South, Southeast, Mountain Plains, Midwest)
(seeking multiple volunteers)
• Assemble a list of local/regional (as appropriate) Ukraine-oriented community resources, events, organizations, and groups.
• Inform members within your region of community events with Ukrainian themes.
• Provide information to members within your region regarding Alliance "Team" program engagement opportunities (Team сад, Team єдність, Team Ласкаво просимо до дому). The Alliance can provide toolkits for these activities.
• Assist in the organizing of local events for Ukraine RPCVs and allies in your region, such as dinner parties, potlucks, happy hours, etc.
• Ensure the responsible use of membership information provided by the Alliance.
• Provide activity reports to the Board or primary regional network contact, as appropriate.
• Serve in the role for at least one year.
• Participate in a RO group chat forum or occasional conference calls to connect with other Regional Officers and share promising practices and ideas.
---