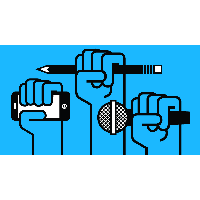 News of the sudden closure of the Kyiv Post, Ukraine's leading English-language newspaper, in November 2021 troubled many of us.
As part of the Alliance's mission to foster a self-determined and globally connected Ukraine, we are sharing what we have learned from our contacts in Ukraine and the US, including former Kyiv Post staff. Fortunately, there is a promising new effort that you can support - read on to find out more.
What happened?
Following a period of tension with newsroom staff, the Kyiv Post's owner shut down the 26-year-old paper in one day and fired its staff of 50 people. The staff consider this to be retaliation for their opposition to the owner's attempts to interfere with the work of an independent newsroom. The paper shed light on the progress of crucial reforms, the fight against corruption, and the business climate in Ukraine. You can read their account of events here.

The sudden firing of the Kyiv Post team sparked a reaction from embassies and international organizations devoted to a free press, including the US Embassy, which called the occasion ​"a sad day for Ukrainian media." You can read more in a recent article from Voice of America.

The team of journalists fired from the Kyiv Post are launching a new publication, the Kyiv Independent. It will initially operate as a nonprofit organization, though the team plans to develop it into a financially sustainable operation.

The Kyiv Post has been re-launched with a new staff under its current owner. It is yet to be seen how this new version, with a new team, will compare to its predecessor. If you liked the content you received from the Post in the past, you can continue to follow and support the work of those same journalists at their new publication, the Kyiv Independent.
What you can do to stay informed and support independent journalism in Ukraine
The RPCV Alliance for Ukraine is not directly raising funds for the Kyiv Independent at this time, but we encourage you to explore the options below. Regardless of what the future holds for the Kyiv Post, the Kyiv Independent is an important effort of proven journalists who are committed to a free and independent press in Ukraine and a global voice for the country.

The RPCV Alliance for Ukraine will continue to look for opportunities to partner with and support independent journalists in Ukraine, so stay tuned!
---