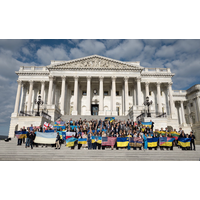 We are in year two of Russia's full-scale attack on Ukraine, and year nine of war in the Donbas. Donors are spread thin between needs all over the world. Electoral politics are starting to dominate the news, with US support for Ukraine coming under question. At the same time, Ukrainians and Ukrainian allies all over the world have spent the past year building support networks and coalitions that keep getting stronger. One compelling example is the recent Ukraine Action Summit, organized by the American Coalition for Ukraine, which brought more than 300 people together to advocate for Ukraine in Washington, DC.
Ukraine RPCVs made our presence known at the second annual Summit this April. Among the lead Summit organizers was RPCV Kate Tremont (TEFL, 2010-2011), Director of Community Advocacy with Razom for Ukraine. Seven additional Ukraine RPCVs joined as delegates representing four states and the District of Columbia. From learning how to combat the forced deportation of Ukrainian children, to meeting a defender of Azovstal and even former Ukrainian President Viktor Yushchenko, read on to hear how Ukraine RPCVs are rallying support from the grassroots level to the halls of Congress.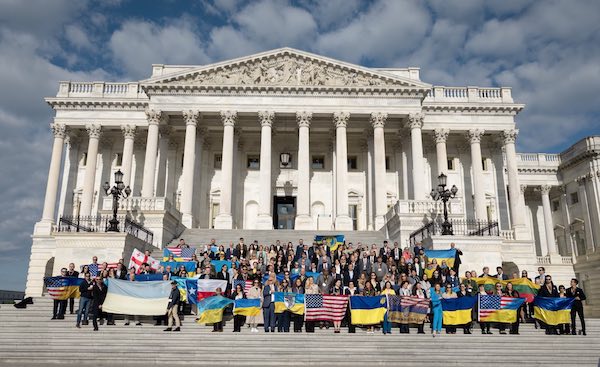 Meet the Delegates
Raisa Alstodt (2019-2020, TEFL). Director of Strategic Planning of RPCV-AUA. DC delegation.

Becky Bosshart (2012-2014, TEFL). RPCV-AUA Peremoha Grantee. DC delegation.

Denise Capelli (2015-2018, Community Development). Founding member of RPCV-AUA Grants Committee. Colorado delegation.

John Capelli (2015-2018, Community Development). Current member of RPCV-AUA Grants Committee. Colorado delegation.

Ed Ma (2003-2005, TEFL). Founder of Ed's Friends Ukraine. Texas delegation.

Suzy Shovlin (2007-2009, TEFL). Peace Corps Virtual Service Pilot Participant. Tennessee delegation.

Natasha Wanchek (1999-2001, Community Development). Coordinating with multiple partners to support efforts in Bakhmut. New York delegation.
Learning to Advocate
Many of these Ukraine RPCV delegates were engaging in national-level advocacy for the first time. "I had never done advocacy at the capital before," shared Suzy, "so learning the ins and outs of the process, actually getting to meet with staff, was really instructive." Participants attended workshops and were well-prepared with a list of priorities. For John, the Summit "provided a platform that challenged me to participate in several Congressional meetings for the first time." Together, RPCV delegates met with 18 Senators and Representatives or their staff to draw attention to four key priorities and advocate in general for ongoing US support of Ukraine:

For Natasha, who has already helped raise tens of thousands of dollars for aid in the key city of Bakhmut, where she served, advocacy is a natural next step. "There is no end to the amount of humanitarian supplies needed. What would be better than individuals and groups sending continual humanitarian aid is for Ukraine to receive what's needed to end the war [...] This is my attempt to think bigger than fundraising for humanitarian aid."

Making Connections
The mission of the RPCV Alliance for Ukraine is to empower an international network of people, agencies, and organizations dedicated to fostering a self-determined and globally-connected Ukraine. One of the key words here is network. Connecting with like-minded people was a hope shared by all delegates, who were excited to finally meet people who have been close collaborators online since the start of the invasion. Denise shared, "Previously I had only met Ed and Natasha on Zoom. When I gathered with all the RPCVs, it was like we all had been long-time friends forever."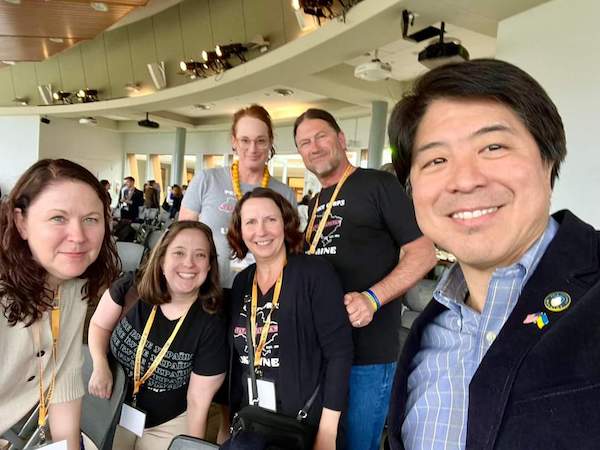 RPCV Delegates at advocacy training. Left to right: Natasha Wanchek, Suzy Shovlin, Becky Bosshart, Denise Capelli, John Capelli, and Ed Ma.
There were some surprise connections, as well - Becky ended up running into a former student, Tanya, whom she had last seen in Chernivtsi before PCVs were evacuated during the Revolution of Dignity! Tanya is now pursuing a PhD, and joined the Maryland delegation to advocate for Ukraine.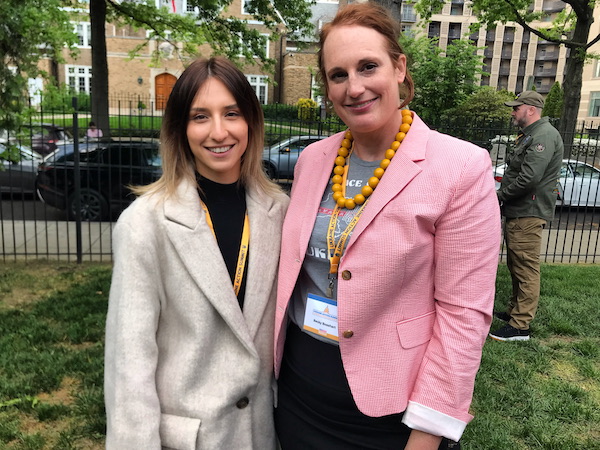 Becky advocating together with her former student, Tanya, at the Ukraine Action Summit. Tanya joined the Maryland delegation.

For Suzy and Ed, it was especially compelling to hear from former Ukrainian President Viktor Yushchenko. "In 2004, I stood in the streets of Ukraine during the Orange Revolution as Ukrainians protested peacefully for democracy [...] By the end of the protests, Presidential candidate Viktor Yushchenko had been poisoned with dioxins," Ed recalled in a social media post. In what was broadly considered a victory for Ukrainian democracy, Yushchenko did, indeed, become President - an office he held during the years Suzy was serving in Ukraine.
In DC, Ed had the chance to meet former President Yushchenko. "After this speech, I stood with him and his wife, and told them my story of how I was at his victory ceremony during my Peace Corps service, and how last year I founded the nonprofit charity Ed's Friends Ukraine to help Ukrainians. He thanked me, and his wife suggested that we take a photo together."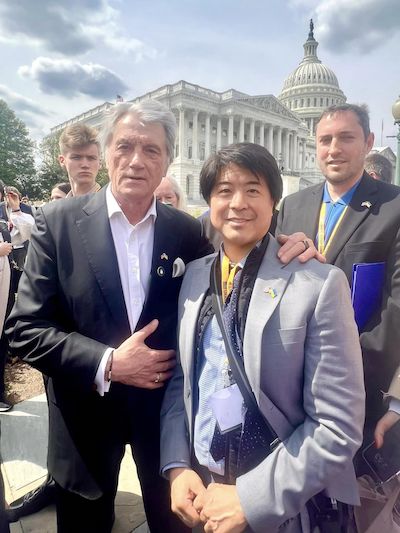 Ed Ma with former President of Ukraine, Viktor Yushchenko, who spoke at the Summit.

As RPCVs, we are familiar with the power of connecting people face to face. Allies of Ukraine who came together from all over the country not only met with their legislators, but also attended impactful panels and trainings that helped deepen understanding and facilitate cooperation. "People were able to collaborate and share information on subjects related to the different components of the war in Ukraine," shared Raisa. For John, "These events allowed for in-depth conversations about what others were doing for Ukrainians abroad and domestically."
What's Next?
Russia's war on Ukraine, and the resulting consequences, are unfortunately a long-term challenge that will require engagement for years to come. Ukraine RPCVs have mounted a historic response, and events like this year's Ukraine Action Summit help us collectively increase our impact and sustain our motivation as a community. We are not alone - and together, we are powerful.
"You find a comforting familiarity and understanding," reflected John. "My time in Washington, DC exceeded my expectations and was very powerful." He and Denise look forward to collaborating with others they met from their Colorado delegation. Suzy aims to do the same: "Thanks to meeting the rest of the Tennessee team, I have some new connections to organizations in my state that are doing great work, and I'm excited to promote their initiatives." Overall, there were 62 organizations present at the event - find more information about them here.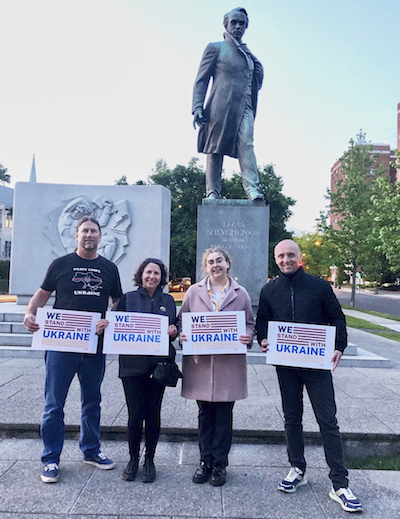 John and Denise together with other members of the Colorado delegation, whom they now consider new friends.

Supporting Ukraine in-person at the national level was new for many of our RPCV attendees, but as Suzy states, "as someone that works in social studies education, it was special to be able to take civic action at that level." Natasha now feels armed with "a stronger understanding of legislative and policy priorities related to Ukraine and an appreciation for how these issues can be discussed with representatives" - something she will be incorporating into future talks she might give about her experience in Ukraine. Denise says her mind is now swirling with ideas as she takes in the full magnitude of the experience. "I do feel my three days at the event have made me a better person with more knowledge of advocacy work."
Molodtsi to all of the delegates. May your example inspire all of us!
---
Looking for more ways to support Ukraine?

If you're reading this in 2023, then you can learn more about current legislative priorities, and encourage your legislators to pass measures you support. Check out this 2023 One-Pager from the American Coalition for Ukraine (click here for PDF).
We also welcome you to volunteer with the Alliance's leadership team! Learn more about our mission and volunteer openings (click for PDF).

The RPCV Alliance for Ukraine currently has several active fundraising campaigns. The RPCV-written Babusya's Kitchen cookbook shares recipes from our friends, colleagues, and host families. All proceeds from this cookbook go to fund our Peremoha Mini Grants, which are small grants that support RPCVs' Ukrainian communities. If you and your friends have already all bought copies, consider reaching out to local bookshops who may want to stock it!
While our grants are primarily funded through cookbook sales, we also have a donation option that allows you to donate one time or on a set frequency.

If financial support is not an option for you at this time, you can also support Ukraine through writing op-eds. In the past we have hosted op-ed trainings with the National Peace Corps Association - check out the session recording for advice on how to write impactful letters from your own experience and get them published.
---