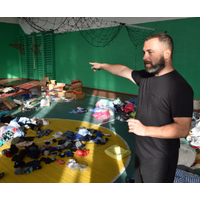 The Glorious Return of PCV Timothy Nicolazzi.
What a Difference A Year Makes
By Michael Andrews, Peace Corps Response Ukraine
One year ago this month, Tim Nicolazzi celebrated one of the best victories of his Peace Corps service in Ukraine.
It was the precipice of winter at Tim's site, Rivne, a village 50 kilometers west of oblast center Kropyvnytskyi. The winter before, he saw that many children at his school, where he was a youth development specialist, did not have warm coats and winter clothes. Thinking way ahead in May 2018, Tim discovered through the RPCV Alliance that Ukrainians of Colorado would help. Six months later, after many calls and a visit to the port of entry in Odessa, 50 boxes of everything from coats to school supplies arrived in his village. All he had to do was get it all sorted out, which took an entire day with fellow volunteers and his counterpart in Rivne's school gymnasium.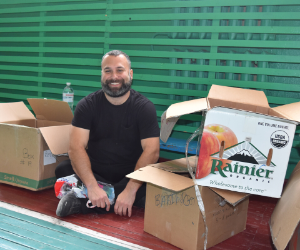 Tim had done what Peace Corps volunteers do. He saw a need and figured out a way to help, a hallmark of service that made him special to his school and the Rivne community – a triumph of collective good – modeling an American ideal.
Now, a year later, Tim looks back on that accomplishment and other milestones in Ukraine and realizes that their impacts, although born of American spirit, are difficult to communicate to people back home.
"You go from being special to being normal," Tim says from his new apartment in downtown, Louisville, Kentucky, where he works as a housing specialist for Housing and Urban Development (HUD).
"That phenomena is described in the book "Tribe," by Sebastian Junger. He writes about soldiers coming home," Tim continues. "You go from being sought after, back to your mundane life. The adventure is kind of over."
That reality has not kept Tim from packing lots of adventure into his 36 years. He knows what it's like to be a soldier and a Peace Corps volunteer. He did a stint in the U.S. Army and ascended to the rank of captain, serving in Germany as a logistics officer. After 11 years he faced the prospect of making the military a career. But he decided he wanted to give back.
"I felt like I needed to help more," he says. "I wanted to build my life the way I wanted it and helping people was more important to me than just making money, so the Peace Corps was the logical next step in my adventure."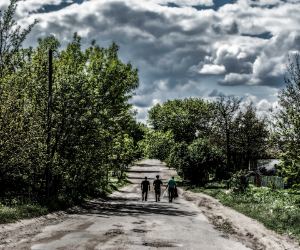 Tim stared down such watershed moments with stanch determinism, though he sometimes didn't know where decisions would lead. Demons chasing him are familiar for all of us when we serve abroad: we hit rough spots, stress over what to do next, become impatient, and worry.
As Tim faced the end of his Peace Corps service, he was confronted with a host of those feelings and also opportunities – extend for a third year in Ukraine and become a volunteer leader, apply for a Response post in another country or come home. He chose what he now believes was the most challenging option of all – returning to America.
"Coming home was overwhelming. When I returned, I started applying for jobs non-stop. I had to keep busy. I was missing my old life, but I didn't really have a new life either," he reflects.
Tim was experiencing the fog of readapting to a culture he once knew well.
"I'd go out to restaurants and be shocked that people around me were speaking English. Uber drivers would ask me ridiculous questions like does Ukraine have air conditioning and do people drive cars," he says.
"In your mind, American time was frozen, yet everybody you know lived their lives without you. They don't ask questions. They don't care what you have been through."
At the most intense period of Tim's reentry, he even considered moving back to Ukraine. "I couldn't sleep on my mom's couch forever," he laughs.
His life began to feel more normal when job offers began to appear. He was offered an opportunity screening passport applications with US Immigration and Naturalization Service and working for a blood plasma corporation. When he interviewed with HUD representatives at a job fair in Austin, Texas, he knew he met his match. They offered him a post in June and then bureaucracy began grinding until he finally showed up for work in August this year.
"I love my new job," Tim says. "I get to be the face of HUD in Louisville. I am still doing humanitarian work, helping homeless veterans and others. It is important to lift people up."
Along with the job, other opportunities are blossoming for Tim in Louisville's burgeoning, can-do metro. He has hooked up with Kentucky's RPVC community and joined the Young Professional Association of Louisville. He was accepted into University of Louisville's MBA program.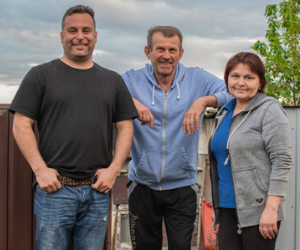 Tim is beginning to tick all the boxes of being back, what he calls "rebuilding a life," a job, a place to live, new friends and re-acquaintance with American cuisine. Restaurant chatter in English is no longer jarring. He still misses his old life. He talks to his host family in Rivne every week (pictured), but he's now more balanced and philosophical.
"My life has been a fantastic adventure, certainly far from normal," Tim says confidently. "The military and Peace Corps set me up for success. I am extremely proud of what I have accomplished."
Those accomplishments have not come without sacrifices, seldom well understood by friends and family back home, but known intimately by those who have served and returned.
One thing we all have in common is the sentiment expressed by Junger in "Tribe."
"The beauty and the tragedy of the modern world is that it eliminates many situations that require people to demonstrate a commitment to the collective good."
Luckily for Tim, he has had fortitude to embrace such a commitment throughout his journey, in far away countries and in the new life he is building now that he is back home.
---