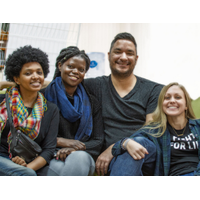 Taking It To The Streets:
PCVs Fight Against HIV and AIDS
Exemplifies the Goals of Service.
By Michael Andrews, Peace Corps Response Ukraine
There is a day each year that shines a bright light on the goals of Peace Corps volunteer service in Ukraine. That day is December 1. World AIDS Day.
The commemoration knits together the past, present and future of the world's epidemic and tightens the thread of shared aspirations between volunteers and our Ukrainian hosts.
Ukraine is among the European countries with the highest prevalence of HIV and AIDS. One percent of adults in the country, 240,000 people, are living with the disease. Peace Corps Ukraine has made a strong commitment to helping fight the epidemic as an implementing partner of the President's Emergency Plan for AIDS Relief (PEPFAR) launched by the George W. Bush administration in 2003. PEPFAR is America's single largest investment in fighting a single disease, with more than $80 billion spent to date worldwide.
On December 1st and every day, Peace Corps Ukraine volunteers demonstrate what it means to take that commitment to the streets, working side-by-side with our Ukrainian partners to fight the epidemic. It is challenging work in the context of Ukraine's emerging democracy, decentralization of health care services and the stigma still associated with the country's most vulnerable people – commercial sex workers, people who inject drugs and men who have sex with men (MSM), some of the routes of transmission of HIV.
Peace Corps Ukraine is unique among implementing partners as volunteers are "embedded" into the fabric of everyday life with host organizations and families. We experience up close where the epidemic lives and activate all three goals of service – technical support, reflecting American values and illuminating Ukraine's culture back home.
HIV and AIDS work in country is primarily led by Peace Corps Response community development volunteers, with an ever-strengthening network of youth development and English language teachers signing on to help. Volunteers help organize and conduct leadership and life-enrichment camps for children and youth affected by the epidemic, provide capacity building and public awareness program support for HIV and AIDS nonprofits and serve as community liaisons for HIV outreach and testing services, as well as other important roles.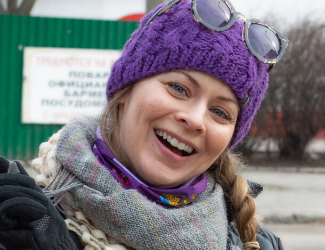 One groundbreaking endeavor in the "other" category was launched this fall by PCV Britten Bolenbaugh, a youth development volunteer. She extended her service to help PEPFAR. A veteran social worker and human rights advocate, Britten had experience tackling the HIV and AIDS epidemic at home in the 1990s. She saw a need to learn more about how HIV is transmitted among men who have sex with men in Ukraine and conducted a "mapping" project in 10 oblasts. Britten traveled with Ukrainian colleagues to conduct confidential surveys with men who have sex with men and members of the gay male community. Britten returned home in November, but the information gleaned will be used to increase the effectiveness of HIV education outreach efforts and testing services by the PEPFAR staff and volunteer teams and their Ukrainian community partners.
Britten's multi-oblast project was built upon 2018 efforts by RPCV J.P. Renaud to identify and connect underserved gay men in his community. Such networks are frequently hidden from view because of stigma and discrimination still alive in Ukraine. J.P.'s important work revealed the need for people to have a "safe space" to convene and share experiences and challenges. More than 20 people showed up for J.P.'s first meet-up and leadership training event. A new advocacy organization is being born to sustain the work initiated by J.P. and his Ukrainian colleagues.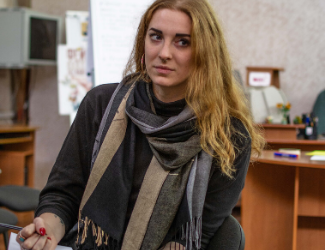 Those kinds of pilot initiatives are hallmarks of Peace Corps service. Emmery Brakke, a community development volunteer who extended her service to help PEPFAR, recently experienced first hand the power of a new NGO pilot program that offers HIV testing and referral services to people who are struggling with drug abuse. Recently, Emmery accompanied a mobile testing van to one of Kyiv's drug hot spots.
"For me it was really striking how even in a situation where the topic was challenging and highly personal, I once again witnessed Ukrainians being incredibly open and welcoming to strangers," Emmery says.
"A woman we spoke with was not at all hesitant about sharing her personal story and experience. I'd like to think that some of it came from us being open and welcoming as well, but history has shown me that this is truly just the nature of Ukrainians. I've found it in most places in this country, but I wasn't expecting to find it there."
That balance of expectations versus reality confronts every volunteer. Volunteers, especially those involved with PEPFAR, bring technical expertise to their jobs, but they also share American ideas and values, a critical part of intercultural relationship building.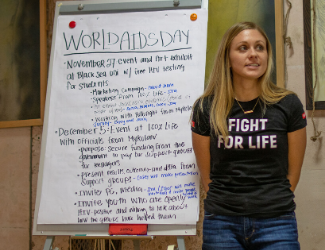 PEPFAR Response volunteers who entered service in July 2019 are already deeply involved in that exchange. Casey Forgey built a partnership with a local university to launch an HIV information and testing outreach program on World AIDS Day. Violet Esipila is helping her organization think more strategically to improve operations and social worker performance. Richard Garcia is working with his community partner to teach new HIV testing and treatment modalities to local health care professionals. Hana Admassu is collaborating with her NGO to pilot a health care outreach initiative for young gay men and MSM. Miles Green is leading efforts to support orphans and vulnerable children who live with HIV. Margaret McClure spearheaded focus groups with key populations who are at risk for HIV infection and used that knowledge to train 144 doctors in best practices for HIV testing and care.
All of these projects and others exemplify the many ways Peace Corps PEPFAR volunteers accomplish the goals of Peace Corps service. Their ultimate aspiration is to contribute meaningful impacts to the global goals of the United Nations Programme on HIV/AIDS (UNAIDS) "90-90-90" endeavor.
"The 90–90–90 targets envision that, by 2020, 90% of people living with HIV will know their HIV status, 90% of people who know their HIV-positive status will be accessing treatment and 90% of people on treatment will have suppressed viral loads," states UNAIDS. People with suppressed viral loads cannot transmit HIV. They can live long, productive lives with proper treatment.
Ukraine is fighting hard against the disease to help citizens achieve healthy lives. Peace Corps Ukraine's PEPFAR volunteers are taking that fight to the streets, providing expertise, building partnerships and working side-by-side with Ukrainians to win the battle.
---