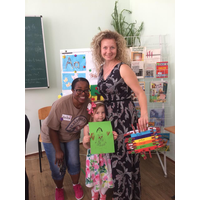 For Vickie Nailing, joining Peace Corps Ukraine is just one part of a lifetime of service, education, and the Peace Corps mission to build peace and friendship.
Vickie is a two-time Volunteer who served in Uzbekistan and Ukraine. She returned to the US just long enough to finish a Master's degree in Teaching International Languages before accepting a teaching job in the village of Radowell, Zhytomyrs'ka Oblast. Now living in Ukraine during the course of the COVID-19 pandemic, Vickie is taking the swing between in-person and online teaching in stride, and she has big plans for the future.
What made you take that jump into Peace Corps service?
I always wanted to join the Peace Corps since I was young, because I knew people that did it. I used to watch the commercials on TV back in the day as a kid, and I've always loved traveling. 9/11 was what pushed me. I was on a city bus, going to work, after watching it on TV. My boss said everybody could go home, and I said, "Okay, this is what's going to push me to go into the Peace Corps." I was motivated by a desire to serve abroad and to visit different countries that were diverse and different from mine. I said, "You know what? This is a good opportunity for me to help celebrate my diversity and show other people about how diverse Americans are."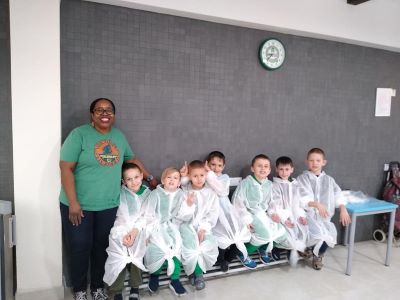 "This is a good opportunity for me to help celebrate my diversity and show other people about how diverse Americans are."
Prior to serving in Ukraine, you served in Uzbekistan. What was that like?
I did Peace Corps in Uzbekistan from 2002 to 2005 as a TEFL Volunteer. We did an African Heritage Fair that started at my school - then other schools heard about it and wanted to join, so we had twelve schools. Each classroom did a booth representing a country, and they presented some brief information and pictures: history, culture, sports and entertainment, food, and natural habitat. They made a dish from the country - for example, Nigerian jollof rice - so people could sample the food. Other Peace Corps Volunteers jumped in: there was one Volunteer that taught a West African dance; another knew a lot about music, so we downloaded all this Black Diaspora music - Cuban, Puerto Rican, African American music and Jazz... We had people donate cakes to do a cake walk. I wrote a letter to our Ambassador, John Purnell, and he came to our event from the Embassy in Uzbekistan. They had it broadcast on TV. It was beautiful. We did all these different events over three years, and it made a huge difference in the community in terms of stereotypes of Black people.
How did you decide to serve a second time?
I worked as a preschool teacher before, and then all my TEFL experience was from Peace Corps Uzbekistan. After service, I worked for four years in special education, but it wasn't for me, so I decided to go back to school. I did the Peace Corps Master's International Program at California State University, Chico. Luckily, the program included a Master's-level TESOL certificate (Teaching English to Speakers of Other Languages). Then I served in Ukraine from 2016 to 2018 as a TEFL teacher trainer in "K-town" - Kropyvnytskiy, Kirovohrads'ka Oblast. I finished my Master's at Chico in 2020.
"I always said in the back of my mind that I would love to come back to Ukraine if there was an opportunity."
What brought you back to Ukraine? How was it moving there to teach during the pandemic?
Chico State shut down and went virtual on the 13th of March. I graduated in May and knew I had to find a job. I always said in the back of my mind that I would love to come back to Ukraine if there was an opportunity, and the Radowell Project was hiring. It's a community project that expands into a school, a lyceum, and a hospital in the village of Radowell.
The CEO, Mykhailo Veselskiy, was born and raised in Radowell. He left to get his education, was successful in several business ventures, and then came back and wanted to transform his village. The school where I work is one element of that project.

I've been able to do a mix of in-person teaching and teaching online. We're quarantined right now, but we're waiting to see what's going to happen. One of the challenges is that our kids are not showing up for classes online. It's been difficult for them. One thing I do is post a video of myself giving instructions, and then they can just turn the work in. That's what one of my professors at Chico State University did. I also started reaching out to parents. I called one student's mother, and she was the reason he got all his assignments done. He was the only one in the class who did his assignments, so now I may have to do the same thing for the others.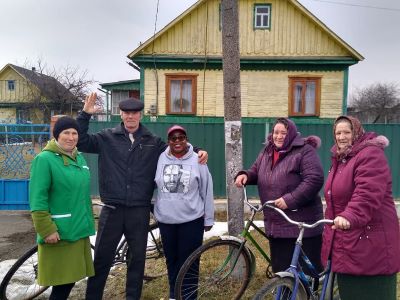 How long do you plan to stay in Ukraine - and what's next?
All the projects I'm doing are going to take some time. I want to be here for another year or two, at least. The school serves a number of students with disabilities, and we need training for the teachers. We also need resources for teaching children about tolerance. We're trying to raise awareness about bullying and how dangerous it is - how it's just not right. I'd also like to do an American Culture Fair, like the African Heritage Fair in Uzbekistan, and represent different groups that people have a lot of stereotypes about - Native Americans, the Latino Community, African Americans, Asian Americans, and Middle Eastern Americans. We also want to expand into health. We need equipment for the kids to play outside, so I've made a list of all the things we need, and Mykhailo wants us to talk with the kids about diet, exercise, and healthy living. Several of the teachers have expressed an interest in civic education.
I'm working on getting my teaching credential for when I go back to the US. And when I reach retirement age - retirement isn't just sitting around and watching TV. I want to keep moving. I'd like to take a group of students abroad!
What else would you like to share?
As a Black Volunteer, what got me through a lot of the xenophobia is that I'm very proactive. I speak my mind and I will find a way to make a change. When I encounter a problem, I take it as an opportunity to make a positive. If people are staring at me, I walk up to them and say hi. When I hear kids on the street use an offensive word for Black people, I say hi and introduce myself, and they introduce themselves, and then I say, "Oh, by the way, I just want to let you know, we call us Black. We don't say that word anymore." They usually say sorry. A lot of the time they just don't know, but sometimes I have to assert that something is not okay. There is nothing wrong with doing that, and I've told that to lots of Black Volunteers. Speak out!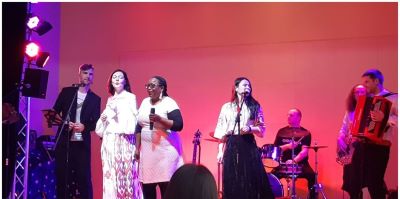 ---