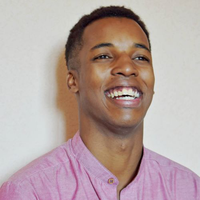 "Starting and sticking with it - I guess that's my story, in Peace Corps and beyond."
When RPCV Jerome Allen (Group 50) spoke with us about his TEFL service in Zboriv, Ternopil's'ka Oblast, and his life since returning to the US, he noted a common theme: "If the resource isn't there, what if I just start it?". From founding a theater arts camp and an annual Black PCV retreat in Ukraine, to launching a political comedy podcast and pursuing a Master of Fine Arts degree in New York, Jerome has started a variety of creative endeavors that also serve others.
Launching Camp A.C.T.
Jerome taught English at a small gymnasium in Zboriv, a town not far from the city of Ternopil in western Ukraine. Like many Volunteers, he also took on impactful side projects. On the first day of training, he met fellow PCV Nellie Petlick. When they found out they had both studied theater at university, the beginning of a collaboration was born.
Jerome and Nellie teamed up with a Ukrainian co-director to develop Camp A.C.T. (Aspiring Creative Thespians). From hundreds of applicants, they prioritized admitting students who hadn't already had the opportunity to go to performing arts camps before. The 22 campers selected had strong interest but little to no prior experience in theater.
"We specifically wanted students who had low theater resources, because the tools and the resources we were giving them were the ability to start a theater camp in a town that didn't have a large stage or a theater professor."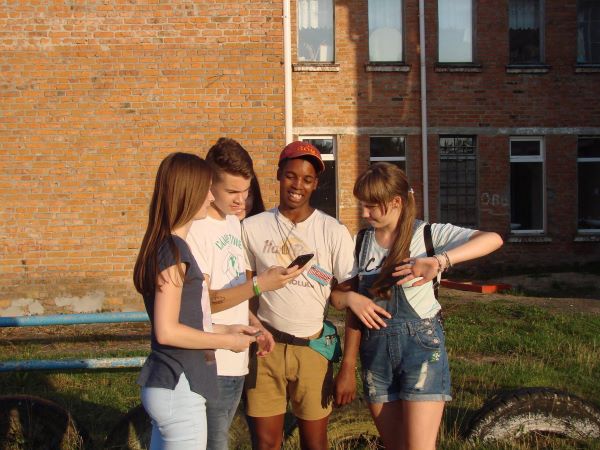 Jerome and Nellie recruited both American and Ukrainian counselors with performing arts experience, and also provided a robust counselor training program. Camp A.C.T. ended up being a terrific success, and expanded in its second year following a thorough feedback process to improve and develop the camp. Ukrainian participants from the first year also had the opportunity to return in the second year as junior counselors. One of these junior counselors has since gone on to study filmmaking at Dartmouth College, a prestigious Ivy League university.
Building Community as a Queer Volunteer of Color
When we asked Jerome about serving in Ukraine as a person of color and member of the LGBTQ+ community, he noted that it's impossible to separate these intersectional identities. Fortunately, Jerome never felt that he had any major issues at his site, although he recalls feeling nervous about what the repercussions would be if his colleagues found out he was gay. At the gymnasium where he taught English, he avoided discussing his identity or specifically explaining his travel for events like Kyiv Pride, but with time he found that he had an ally in his counterpart, Iryna Bilohurska. She contributed to camps and workshops that addressed sex education, and spoke up about LGBTQ+ awareness and tolerance.
Jerome also felt a profound impact while a counselor at Camp HEAL, where he taught lessons about discrimination and stigmatization, and was open about his own experience. He shared that, "A lot of kids came out to me, and I still keep up with a lot of them. One who moved to New York, he was also queer, and he was like, 'I'm glad you gave me that space'." Jerome notes that such space is valuable for LGBTQ+ Ukrainians, who continue to face significant obstacles.
"Of course, operating in a place where that was spoken only in certain spaces, that was tough, but I feel glad that I was able to make those spaces for other people."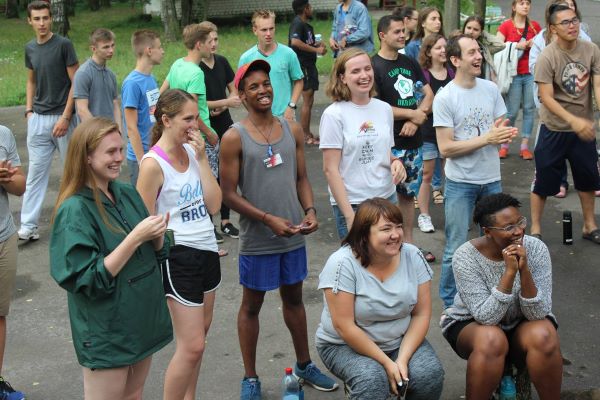 Jerome also helped cultivate welcoming and healing spaces for fellow PCVs by helping to launch the annual Black PCV retreat. Though he generally felt safe at his site near Ternopil, which hosts a large international student population, Jerome still had to deal with stares and comments, including racial slurs. He found support and mentorship from fellow Black PCVs, connecting over phone calls, hanging out in person, and ultimately helping to create the Black PCV retreat. While Jerome embraced the challenge of learning Ukrainian and building relationships in Zboriv, the retreat provided much-needed restoration. He explains, "It was the ability to not feel that sense of staring, and also to come together culturally over the Black experience."
The first Black PCV retreat was fairly small and informal - a place to talk - but the second one expanded to include meditation, yoga, and other events. Jerome co-led the first two retreats, and then passed the torch to other Black PCV leaders. The event has since continued each year (with the exception of the pandemic) to become a PC Ukraine institution.
Teaching, Learning, and Trying New Things
Since finishing service, Jerome has taken on a variety of endeavors, including teaching in Harlem, entering graduate school, continuing to audition as an actor, and launching a podcast.
Driven by the same ethic that inspired his service in Ukraine, Jerome took on a teaching job at a six-week city-run summer camp, choosing to commute an hour each way to teach 4th and 5th grade literature in Harlem rather than taking a job at a more expensive private camp. His time in Ukraine helped shape his understanding of immersing oneself in and serving one's community: "I've lived in New York since 2019, but this was the first time I was surrounded by - working with, eating with - New Yorkers from the city."
Though teaching in Harlem is notably different than teaching in Ukraine, he notes that, "Through Peace Corps, I acquired the discipline of teaching - of 'I'm here to do a job, not to make every student my friend'', and I think being able to do that from day one helped me be efficient in addressing the needs of the students. And then, of course, the friendship comes with it."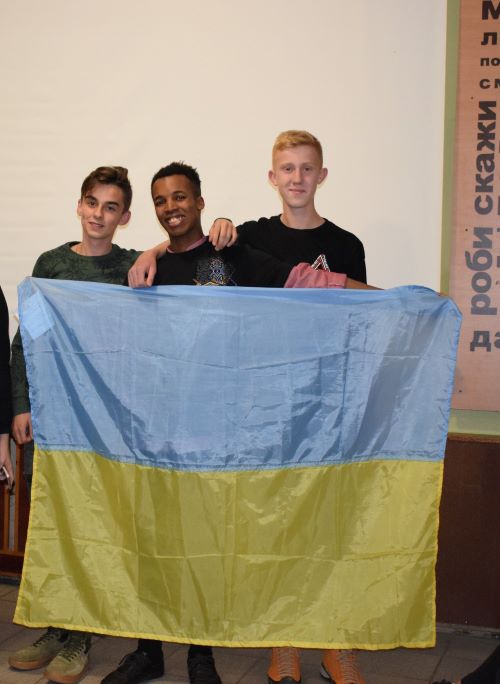 Though Jerome continues to reflect on his experience and growth as an educator, he sees his next steps happening outside of the classroom. He is currently pursuing an MFA in acting at The New School. He also partnered with his friend Topher Wagner to launch a podcast, The Avant Inn. The podcast focuses on current events and politics with a humorous spin, not unlike popular late-night comedy shows. Jerome, who has long been interested and involved in politics, describes it as "a merging of something I've always wanted to do with something I wanted to get better at." For him, humor is a tool to get people engaged in important matters.
"If I can get someone who's really bored by politics to care, I feel like that's a big win."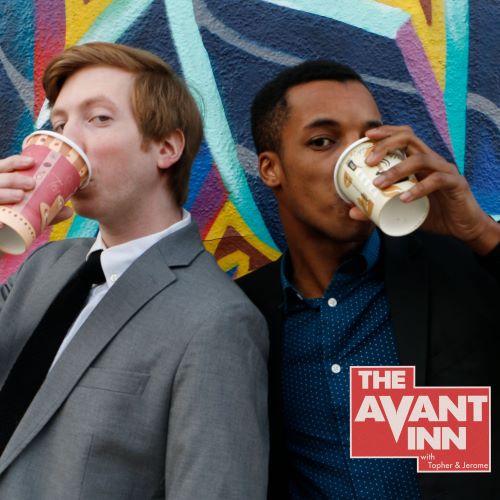 You can listen to The Avant Inn on various platforms including Spotify, SoundCloud, and Audible.
Referring back to the theme of "starting and sticking with it", Jerome notes that the podcast has grown well beyond what he predicted at the beginning. The Avant Inn now attracts such notable guests as New York City Council members. Jerome has also met additional collaborators in the process of producing the podcast, and has a future YouTube channel in the works. He plans to continue engaging in politics through multimedia projects while pursuing work in theater and film.
We had a great time reconnecting with Jerome, and look forward to hearing more about his endeavors. If there is one thing he would advise, it is to find what you're interested in, start something, and then stick with it even if the first attempt isn't great. The earliest iteration of a new idea might be small or imperfect, but it will get better with time and effort. The growth of projects like Camp A.C.T., the Black PCV Retreat, and now The Avant Inn podcast all attest to that.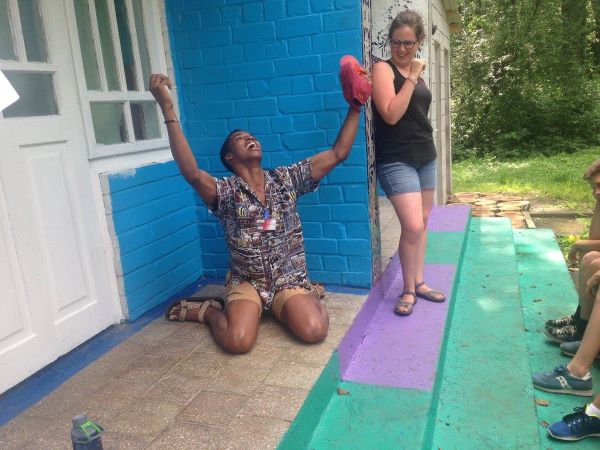 ---