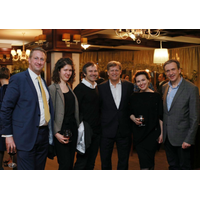 RPCV Spotlight: Eric Hontz, Group 27.
While the coronavirus epidemic over the last few months has given everyone in the U.S. some perspective on "before times" and "the present," the feeling is all too familiar to Peace Corps Ukraine volunteers who experienced both sides of a defining event in Ukraine. Eric Hontz (TEFL Group 27) served in Severodonetsk immediately after the Orange Revolution, and when the 2014 war with Russia broke out, found himself with friends on both sides. Eric took the time to share with the Alliance how he got to the Peace Corps, and how his experiences there have shaped his career.
What made you want to join the Peace Corps?
I knew the few years after undergrad would be the most free of my life. With little family commitments and no desire to quickly enter corporate life I was looking for an avenue to gain some work experience and skills while giving back to my country. The Peace Corps seemed to be the perfect way to pursue those goals simultaneously.
Tell us about your site and your host organization in Ukraine.
I served as an English language teacher in Severodonetsk, Ukraine at Specialized School Number 17 and taught students in grades 5 through 11. In addition to my assignment I developed a couple of English language clubs at city colleges and played a bit part in a local KVN (comedy) group on occasion. One of the most rewarding things that I did during my years of service was to get a small grant to develop a low-level ropes course on the school grounds and build a summer camp for leadership from the ground up. It was a way for kids from all over the city to come together for a week to get some extra language practice in, learn some communication and leadership skills, and to connect with one another to build a community across the city.
You served in the Luhansk oblast during the Orange Revolution; what was that like?
The Orange Revolution occured during my training period so I was located in a small suburb of Kyiv where local activists blocked trains coming in from the east that were filled with titushki (paid thugs) who were on their way to Maidan. Days after our assignment ceremony I learned about my new home from local television when a large seperatist rally took place in the Severodonetsk sports center. Going from the pro-Orange Revolution center of the country to the heart of the Donbas that supported separation was a large culture shock. Given the heightened political tension there were instances of unpleasantness aimed at me, both verbally and physically, but I never felt unwelcome in the classroom with my students, among my colleagues, and among a core group of friends I made. Serving in the city made me a smarter consumer of media years before most folks were thinking about "fake news" and has led to some great conversations with Peter Pomerantsev in my current position.
Severodonetsk was taken over by pro-Russian militants in 2014 at the start of the War in Donbass, but was liberated by Ukraine, and now serves as the de-facto Oblast capital. Are you still in touch with anyone from your site? How are they doing?
While serving in Severodonetsk I met my future wife and we were married in the city in 2006 among a group of friends, Peace Corps volunteers, and family. Through my wife's side of the family we have relatives that are on both sides of the line of contact. The city is still a rough place and became more so when the main plastics and fertilizer factories shut down after gas subsidies ended. The influx of stable government jobs from Luhansk (and good paying jobs from international donor projects) was welcome but created social rifts among residents, new and old. The region is mostly "frozen" in terms of economic and social development which is exactly the outcome desired by the Russian Federation. It will take more innovative thinking, much more financial support, and folks willing to take a risk in order to thaw out the region and have it progress. One positive sign I've heard from folks is that young people are more active in the city, they are asking questions, demanding answers, and are not willing to sit back and be resigned to accept answers they are given. Local control of budgets has also allowed for some infrastructure improvements to the city which has made the quality of life a bit better for residents, but there is still a long way to go.
Since COS, you've worked at the Center for International Private Enterprise, earned your Law Degree, and are now the Deputy Regional Director for Europe and Eurasia. Tell us about your career path following service. Did your Peace Corps experience play any part in shaping it?
After the Peace Corps I joined CIPE and spent some time working for Europe and Eurasia and then in the Global department working on programs that included corporate governance. The topic of governance and investment continued to intrigue me so I left the organization and pursued a JD/MBA and then worked for some time in the investment and law firm world. When an opportunity arose to rejoin CIPE with a new perspective, experience and skills I jumped at the opportunity. The ability to work on programs at the intersection of markets and democracy is a fascinating space that is intellectually challenging and rewarding.
My Peace Corps service played a central role in my current career. When a new (French owned) supermarket opened in the city I told my friends that I was excited since prices would be going down. Until this point prices for food were actually higher than in Kyiv due to limited competition. They said prices would stay the same or go up and we bet on it. Lo and behold, several months after opening food prices were up all around the city. What I didn't know and my friends did was that there were only a few roads into the city and all the distribution centers were in Luhansk. The roads were (allegedly) controlled by the mafia and the presence of a deep pocketed French owned company convinced them they could charge higher freight weights. This simple example - the way invisible institutions work to impact outcomes - has guided much of my professional life. I've taken some detours, but I continue to be driven to seek out and understand the way investment, institutions, and governance all interact to create positive (or negative) outcomes for citizens.
---