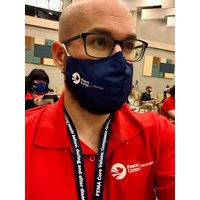 Peace Corps USA: Ukraine RPCVs Serving at Home
To say Kevin Lawson (YD, 53) and Kelli Jo Moorehead (YD, 53) have had quite the journey would be an understatement. Both Kelli Jo and Kevin served in the Youth Development (YD) sector in Ukraine, and were amongst the many PCVs evacuated due to the onset of the COVID-19 pandemic.
Although both from very different parts of the country, Kevin being from North Carolina and Kelli Jo from Iowa, they met in Peace Corps Ukraine and quickly developed a close friendship.
Kevin served as a YD volunteer in Apostolove in the Dnipropetrovs'ka Oblast and Kelli Jo served as a YD volunteer in Dolynska in the Kirovohrads'ka Oblast. Life as a volunteer in their respective communities proved very rewarding for both Kelli Jo and Kevin, with both expressing immense love for their communities and their jobs and profound disappointment at the abrupt end of their service.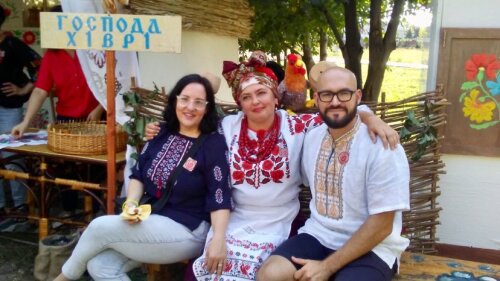 Kelli Jo (left), one of her counterparts, Olga (center), and Kevin (right) sport their vyshyvanky while enjoying an event in Ukraine
"There were so many projects that we wanted to do that were left behind." – Kevin
"It was really hard for me to leave my site. I very much felt like I was part of the community there". – Kelli Jo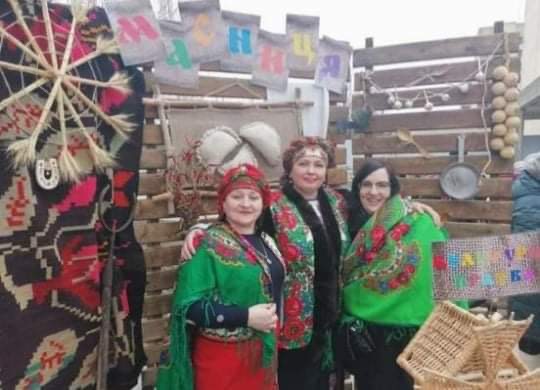 Kelli Jo (right) with her Ukrainian colleagues
Upon returning to the US, Kevin and Kelli Jo had time to think about what they wanted to do, both reflecting on their service and thinking about the next steps, learning new skills along the way.
"I took up everything from yoga to baking, discovering new passions. Able to focus and reflect on myself. "- Kevin
However, both Kevin and Kelli Jo still felt that their service was not over, and still longed to serve, and thus came the fateful day they chose to join the Peace Corps domestic response effort.
The Decision
The decision to join the Peace Corps domestic response effort came just as quickly as the news to evacuate Ukraine. As Kevin describes, "It was around 10 PM. Kelli Jo and I were down to the last two hours to submit our applications to apply when we ultimately made the decision to go forward with it." After a click of a button, Kelli Jo and Kevin said to each other, "I guess we'll be seeing each other soon."
Today, Kelli Jo and Kevin are serving as Domestic Response Volunteers in Maryland, primarily working with FEMA and with fellow PCVs on a daily basis. They also work with nurses and county officials. Day to day responsibilities include providing logistical support, helping to set up and control traffic, checking in patients and observing community members during the post-vaccination waiting period.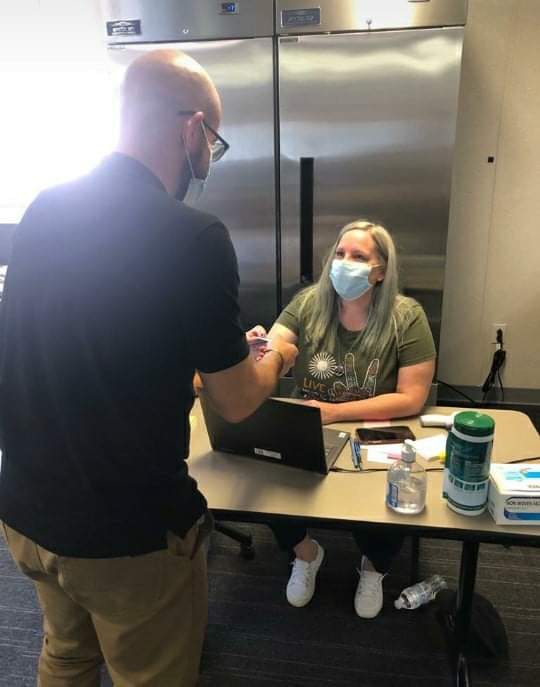 Kevin and Kelli Jo on site at a vaccination clinic in Maryland. As part of a mobile vaccination unit, they have traveled throughout the state.
Another important job is getting the word out. Peace Corps Response Volunteers are helping reach people in small and isolated communities who may struggle to access vaccines, or feel some hesitation. Kevin and Kelli Jo help with phone banking, community canvassing, and spreading support and awareness for mobile vaccine clinics. Both feel that being able to share their own personal stories of getting vaccinated helps them to connect with the community members they meet.
One experience that stands out
Kevin –
"My first day sitting with one of our clinical nurses, I told her about Peace Corps and my time in Ukraine, and she shared her experience during the pandemic, saying very honestly, 'I've seen 6 months of death', having to hold patients' hands when no one could visit them, and how even with a vaccine that there is work to be done in different states."
Kelli Jo –
"Although there is not a singular moment I can pinpoint, the more you speak with people and hear their stories, the more you realize we have all been impacted the same way over the last year. Now it's nice to see people feeling hopeful that we are coming out of the pandemic."
Other moments that stood out to Kelli Jo and Kevin included the fact that of the RPCVs, Ukraine made up the largest group amongst countries. At the end of training, each group of RPCVs performed a traditional toast from their respective countries, with Volunteers from Ukraine doing a traditional Ukrainian toast with a budmo to boot and humming the Ukrainian national anthem.
Although different from their service in Ukraine, there is no doubt that Kevin and Kelli Jo as well as their fellow Peace Corps Domestic Volunteers are touching lives and leaving a positive impact. We thank them for their continued service - from being in the same group and sector in Ukraine, to serving together in the same roles and location as domestic volunteers - and wish them all the success in the future!
---