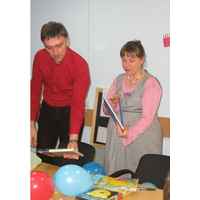 With no Peace Corps volunteers currently in Ukraine, the Returned Peace Corps Volunteers Alliance for Ukraine thought this month we would take the opportunity to interview an in-country staff member that nearly every RPCV has had the pleasure of dealing with during their time in Peace Corps Ukraine. Nastia Riznyk, the Grants Coordinator and Resource Center Manager at Peace Corps Ukraine in Kyiv, took some time to give some impressions of the past, present and future of Peace Corps Ukraine.
Nastia, you've been with Peace Corps Ukraine almost since the beginning, right? First as an LCF, then as a TCF, and then in the position that most of us know you in, the "grants guru" and Resource Center Manager. How has Peace Corps Ukraine changed in that time?
Well, not really since the beginning… J My first experience of working with Peace Corps Ukraine was back in 1996 when I worked for a week as an LCF during the IST (or maybe MST) for group #6. And then, later in 1997 I was hired to work for three months as an LCF during PST#8. I worked as an LCF and then TCF till PST #20. In 2000 I got the position of the Resource Center Manager and began working with PC grant programs.
I don't consider myself to be a "guru" because Guru knows answers to all the questions and in my work I always encounter questions that I don't know the answers to. There would be always a case when discussing a project idea with the Volunteer when I think to myself: "It's a good question! Mhh, what is the answer?" And this is good because it's challenging and it's like figuring out a puzzle.
As for the biggest changes, the first thing that comes to my mind is digitalization and all the IT. I still remember how we were receiving paper copies of grants in thick huge envelopes and how we had to plan in enough time in grant submission deadlines for the mail to get in time to the Peace Corps office. I also remember that some grant proposals were on thin rolling paper that came from fax machines J Well, we were learning new things but also forgetting some old skills. I wonder if I would still remember how to send a fax J Now grants are submitted online and more and more work is done digitally.
And of course e-mail (and later cell phones) – that was a big change. I remember that I first learned about e-mail when I was working as a TCF in Cherkasy. Initially, it was hard for me to understand why I need to send an email, especially to another member of the PST Team even if they are located in another room in another wing of the office building – I can just quickly run to that office and have an in-person talk with that staff member. Sending e-mail was perceived as something too official.
Another big change that I thought of is the amount of training areas that each staff member should be trained in. It was really helpful to receive all the training back when we were LCFs and TCFs to better prepare us for our jobs and effective work with Volunteers. There is even more required training now.
How are things going in Peace Corps Ukraine these days? Are employees still in touch with each other? Is anyone working at headquarters?
Peace Corps Ukraine is busy and teleworking. We have a lot of Zoom or Skype calls, regular all staff meetings and meetings of the Programming and Training Unit every week. The other units (Admin, Safety, Medical, Executive) are also quite busy, even without PCVs. Communication is important. We are also communicating with RPCVs, local counterparts, partners from other organizations and Ministries. Headquarters office is working remotely as well. Everyone is focused on the safe and successful return of Peace Corps Volunteers.
How about in Ukraine in general? There haven't been any volunteers in Ukraine since the evacuation at the end of March. How has Ukraine been dealing with coronavirus?
As any other country in the world Ukraine was trying to figure out how to survive and learn to live in the new reality. Schools were closed. Students had online schooling which was pretty challenging. Public transportation was not running. A lot of Ukrainians learned how to work with Zoom. People were asked to stay home, wear masks, and learn to stand in line keeping a big distance between each other ("big" and "distance" were the most challenging part J).
It's always standard to ask RPCVs what they learned during their service in Ukraine, but we don't usually get to hear the other side -- what have YOU learned about Americans from your time in the Peace Corps?
It's a good question. I think I learned a lot, so let me think about some examples. I've learned that a lot of Americans have a "can do" or "why not" approach and that it's never too late to learn new things. I remember how I was impressed when I heard for the first time of older PCVs deciding to go to college and earn a degree or learn how to play a violin! It was great to see that age is not a limit. I also learned a lot about American business culture and some cross cultural aspects related to it. I've not only learned but experiences some new things, like for example, the phenomenon of a "baby shower" J Here are some pictures from my baby shower that was arranged for our family by the Volunteers on the SPA Committee back in 2011 – unforgettable pleasant memories J
Have there been any discussions about how coronavirus might change PC Ukraine for the next group of volunteers?
Yes, such discussions are happening on all levels now including PC HQ. There is also regular communication taking place with other Peace Corps posts in EMA (Europe, Mediterranean, Asia) region. I was on one of those zoom calls a week ago. There are a lot of questions. It's great to have an opportunity to discuss questions with other posts and think of possible solutions together. Peace Corps staff from our region has created "EMA Connected Community on Learning Space" where such discussions are taking place. All discussions center around safe return and function of the PCVs.
Is there anything RPCVs can do right now to support PC Ukraine? Are there any needs you can anticipate once the next group of PCVs arrive?
I think that the greatest support is that RPCVs stay connected with us and their sites. I anticipate that even before the next group arrives our team will be in touch with different RPCVs seeking feedback, advice and help. There is a dialogue going on now with the RPCVs regarding allyship and support to Black PCVs.
Also, the fact that RPCVs have created RPCV Alliance for Ukraine network that connects RPCVs from Ukraine and helps to host PC Third Goal events is already a great support! Thank you so much for everything you do!
Lastly, please actively engage with our social media (Instagram and Facebook) - when RPCVs and their friends and family share, like, love, comment, post your service photos in the comments, etc. it permits more people to see the great work Volunteers and Ukrainians do together promoting world peace and friendship through service.
Following the death of George Floyd in Minneapolis, we're seeing protests all over the U.S. and similar protests have now started to take root in Europe as well -- Has there been any reaction in Ukraine?
First of all, I would like to say that I and my family feel so sorry about the death of George Floyd.
What I see now happening is a big discussion taking place in Ukrainian social media about Black Lives Matter movement. I see some Ukrainians adding "Black Lives Matter" to their Facebook profiles. As for the discussions, I realized one thing when following them – there is sometimes a lack of understanding of the context, and not only the historical but current context.
People know that the US is the country of equal rights and opportunities. From Mass Media people know a lot of famous and successful black Americans including famous politicians, journalists, musicians, sportsmen, and the former President. The fact that there is systemic racism in the US and that it still exists came as something unexpected.
As for the police violence, you might have heard that this is the issue in Ukraine as well. Recently there have been protests against police violence in Ukraine following the violence case that took place in Kagarlyk. Here are two articles. This is very disheartening and sad.
http://euromaidanpress.com/2020/06/05/minister-avakov-keeps-dodging-political-responsibility-for-heinous-police-crimes/
The State Bureau of Investigation is investigating about 5,000 criminal cases against police abuse facts
---