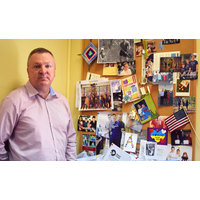 Peace Corps Program Manager Set to Head the Re-opening of Kherson Oblast, Marking His 23rd Year with Peace Corps.
Written by Sara Sherman, PCV Ukraine Group 51
As a native from Lutsk, in Volynska Oblast, Oleh Smiychyk was still in the process of completing his degree in Finance from Kyiv Economics University when he became curious about the Americans he noticed roaming around his town. Later, he came to find out that they were Peace Corps Volunteers from Group 4, who were participating in their central-based culture and language training right there in his city.
"I met the Americans from Group 4 and was so nervous around them," Oleh said. "They have the suits and ties, high heels and plastic bags, and they spoke English."
The next year, in 1995, Oleh started working part-time at Pre-Service Training as an interpreter and secretary to kick-off his 23-year journey as a staff member of Peace Corps in Ukraine. In 1999, he became Program Manager, and is expecting his new group of volunteers from Group 53 in August.
Oleh sits tucked away in his shared office space, his desk barely holding all of his paperwork from over 20 recent site visits and organization interviews. Because of his veteran status, he is returning to, and preparing to take the lead in the re-opening of Kherson Oblast, and the continuation of placements in the Dnipro and Ternopil Oblasts. He stares intently at his computer and recites an email aloud to follow-up on a recent organization placement meeting. From edge to edge, the wall space to his left is a large bulletin board, trimmed with documents and reminders, and decorated with scattered photos, postcards, hand-drawn pictures and cards.
Oleh directs his attention to the bulletin board and glances over his left shoulder at all his posted memories.
"These are my friends," Oleh says with a smile.
Oleh prides himself on not having a Facebook page, but still keeping in touch with over 200 volunteers through email, which he views as a more personal way of communication. He recounts their birthdays, husbands, wives, kids, and all the memories he made with them when they were current volunteers in years past.
Oleh explains how most of his best friends are from Peace Corps Groups 5, 6 and 7. His part-time and flexible roles allowed him to spend more recreational time with the volunteers that led to bonds that would last him to this day.
He sits silently for a moment, recollecting a memory when one of his closest friends, Tim O'Brien, an RPCV from Group 5, came to visit him in Ukraine.
"Two years ago, we sat in a restaurant and began counting and reciting the names of each volunteer from Group 5 by memory," Oleh said. "Tim knew all of them, but even 21 years and several groups later, I was at about 90%, and Dorothy Sales, my American sister, was the first one I named."
These tight-knit friendships led to his complete devotion to the Peace Corps mission, and in 1996, Oleh began working as a receptionist and program assistant. In 1999 he began his long-term career as a Program Manager.
For the new group of approximately 120 volunteers set to arrive between the months of August and September 2018, Peace Corps will begin the process of placing more volunteers back into central and eastern Ukraine. Program Managers like Oleh are taking on more responsibility and roles in order to balance the influx of new volunteers and prospective sites.
He explains how he uses the same friendly approach in his personal relationships as he does when he is building connections with prospective new site colleagues in Kherson and Dnipro Oblasts.
"I want to make sure that after regional meetings that I have friendly relationships with the counterparts, and the next step is we will be doing business together," he explained.
As a direct overseer of active volunteers, Oleh also applies this same networking technique to his current and future volunteers at their sites.
Mary Fasano, a current Peace Corps volunteer serving in Ternopil, described her experience working with Oleh like this:
"He takes personal interest in my hobbies, friends and happiness," Mary said. "Oleh is no nonsense and gets right to the point, which both I and my counterpart like."
Since his first group as a Program Manager, Oleh has now worked in every Oblast except for Zakarpattia Oblast. Working with over 1,000 volunteers, he openly appreciates his personal experiences with every individual. Oleh's friends question him about working with the same people for such a long period of time, in which he gives same response:
"I am trying to explain to them that they are not the same people," he said. "Each new person, each new word, each new situation, each story – they are all different experiences."
As he makes his way through his career with Peace Corps Ukraine, Oleh plans on being the friendly, nice-attitude manager and friend, and hopes to return what volunteers have proven to give him in the past.
"They [volunteers] give me life energy, love and the willingness to continue doing good things in my country," Oleh said.
Oleh doesn't plan on going anywhere anytime soon. When asked about what his future plans for his career were, he responded:
"I am planning to be the best Program Manager in the Eastern part of Ukraine," he said.
PCVs and RPCVs all understand, from experience, the importance of the relationship between their Program Manager and themselves. The need for unshakeable trust and a strong bond proves to be one of the best support systems for volunteers as they navigate their two-year service in a foreign country. For a chance at seeing more from Program Managers sharing stories about their personal journey through Peace Corps and memorable experiences with their volunteers, stay tuned for next month's issue!
---