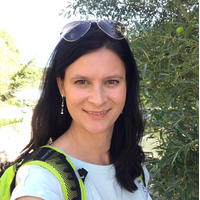 Original obituary written by Mayumi Maruyama (Group 51) and edited for this page by Cortney Copeland (Group 51)

It is with a heavy heart that we share the passing of Elena Yushkova (Skopa), a great friend, colleague, mother, and daughter.
On February 25, 2021, at the young age of 34, Elena passed away from complications due to childbirth, leaving behind her husband and a beautiful son. Elena worked as a language teacher for Peace Corps Ukraine for many years. She was one of the providers for her family and the backbone for her husband.
Elena was from Cherkasy, a town in the central part of Ukraine. She was the only daughter to a single mother, who eventually remarried. She attended college studying English language at one of the top schools in her town.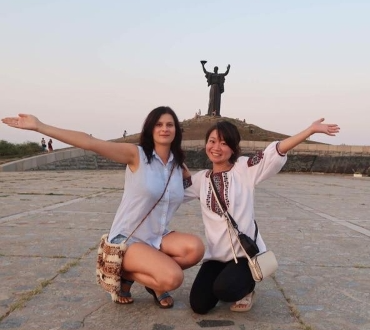 Elena with PCV Mayumi in Cherkasy
Her love story began while working at a bookstore. A chatty man who loved reading as much as Elena did couldn't stay away, eventually asking her on a first date. When you first met this couple, they seem like opposites. Elena was shy and quiet; her husband - loaded with energy. But when they were together, it was like their minds were in sync with perfect rhythm. They didn't need words to understand each other. They just did. The support they had for each other's careers didn't hinder one bit of their relationship during times when they had to be apart for months. When they finally reunited, one of their favorite vacation spots was to go to Egypt, and Elena would share her stories as if she was on her honeymoon all over again.
Eventually, her career led her to Peace Corps where she flourished as a teacher. For many Volunteers, Elena was a great friend. She was a strong and patient listener, and always put the needs of others before hers. It was her talent in understanding her peers that allowed Volunteers to overcome cultural and language barriers while living in Ukraine.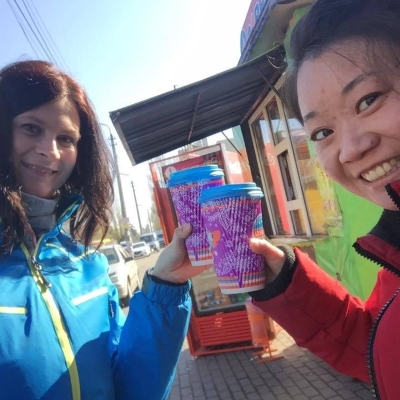 "We always cheered with coffee. That was our thing" , says Mayumi
Elena was also a great wife to her husband and a loving daughter who visited her mother frequently. She was well respected for her work as a language teacher and had plans to continue her passion while being a mother and wife.
The day before her passing, Elena was very excited about meeting her baby boy. She had plans to announce his name after they brought him home.
After Elena tragically died in childbirth, Ukraine RPCVs rallied to raise funds to support her husband and newborn son. The RPCV community donated nearly $10,000 to a fundraiser for Elena's family. One of the fundraising organizers, Katherine Mash, shared, "The amount of money we were able to raise for her son and husband speaks volumes to the amazing person she was, and the amount of lives she touched globally. We are now in the process of transferring over the money to her family".
Alyosha, Elena's husband, has expressed gratitude for the Peace Corps community and considers us family. He welcomes us to their home and hopes we will all meet little Timur. Alyosha proudly says he looks like his mother.
Світла пам'ять
---