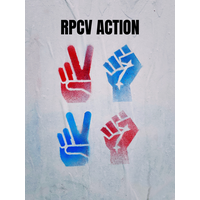 In 2022, the RPCV Alliance for Ukraine was fortunate to connect with the Global Black Coalition, a group of organizations collaborating to assist Black people and their family members in or fleeing from Ukraine due to the Russian military invasion. Many of us heard of the plight of international students of color who faced discrimination along evacuation routes and at border crossings. We also learned of challenges faced by Afro-Ukrainian families who don't fit neatly into national refugee categories - perhaps the children are Ukrainian citizens, while one of their parents is a foreign national with Ukrainian residency but not a Ukrainian passport. Upon reaching relative safety in Europe, many such families have faced barriers to getting the support they need, and some have even faced deportation.
Thanks to your generous donations to our Equity & Justice Fund, launched in 2021 as part of the Alliance's Equity & Social Justice Action Plan, we were able to support the work of the Global Black Coalition with a financial donation of $2,900.00 in 2022. Below you can read the report they sent us in January 2023 with details of the work performed with that funding, and its impact.
Click link below to view PDF:
The Global Black Coalition - RPCV Alliance for Ukraine Report

When we launched the Equity & Justice Fund, the money raised was initially set aside for in-country retreats for Black PCVs in Ukraine - a priority that had been established in a series of conversations between Black RPCV leaders and Peace Corps Ukraine staff. Long-term plans for the fund were being discussed so that the Alliance could support RPCV- and PCV-led projects advancing equity and social justice each year. However, the Russian invasion forced us to change virtually all of our plans. Donating to the Global Black Coalition allowed us to deploy Equity & Justice Fund money to meet urgent needs while continuing to advance the original purpose for which the fund was established.
---