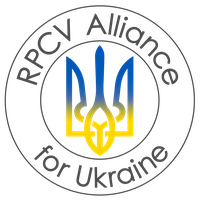 In the RPCV Alliance for Ukraine's 2020 Action Plan for Equity and Social Justice, we committed to providing regular updates on our own efforts and those of Peace Corps Ukraine to confront racism, bigotry, and inequality. Here is our update as of May 2021. Have questions or want to find out more? Contact us with your inquiries and ideas!
---
---
May 2021: A Year of Racial Reckoning
The end of May marks one year since the murder of George Floyd. The brutality and ubiquity of those nine minutes caught on video by a young bystander forced white Americans to confront the reality of institutional racism not only in law enforcement, but in every corner of society. Hundreds of thousands of people of all races took to the streets in cities and towns across the country and around the world, demonstrating that this time, after untold numbers of previous killings of Black people, things were different. Best-seller lists, newsfeeds, and "Dear Customer" letters indicated that soul searching was occuring on every level, from individuals to giant corporations to city councils to nonprofit associations.
George Floyd's killer was held accountable, but Breonna Taylor's (and many others') were not. Police reform measures and voting rights laws are being debated in city halls, state houses and Congress. The pandemic made our country's health and economic inequities painfully clear. So, what is next?
Social change is unbearably slow and messy. The question is, what are you doing to hold those you have power over accountable for moving the needle in the right direction? That includes the power of your vote, the power of your dollar, the power of your voice, individually and through the organizations you are affiliated with. If you are a person of color willing to share your power, the Alliance is looking for board members with your experience and perspective. Please contact us at allianceforukraine@gmail.com, write to us on Facebook, or reach out to any of our current board members.
Below is a summary of how your RPCV world has changed in response to the antiracism movement of the past year. There is so much more to do. It is up to each of us to keep the momentum moving forward.
The RPCV Alliance for Ukraine
Engaged Peace Corps Ukraine staff to focus on "Changes Necessary for the Safety of Black and POC Volunteers in Ukraine", a list of exhortations compiled by PCVs in 2019.

Adopted an Equity and Social Justice Action Plan and accompanying work plan for 2021.

Joined OrgsinSolidarity, an association of organizations dedicated to promoting diversity, equity and inclusion in the fields of international peace, security and conflict resolution

Pursuant to the 2021 Work Plan:
Created an Equity and Justice Fund and raised over $1200; $1000 earmarked for Black PCV retreats

Revised Bylaws to include the following statement of shared values: "The shared values of the RPCV-AUA include respect for human dignity, equity, inclusion, collaboration, commitment to service, and justice for people of all races, ethnicities, nationalities, religions, genders, and sexual orientations."

Revised Bylaws to include an Equity and Social Justice Officer to provide organizational accountability

Ongoing monitoring and responding to diversity, equity and inclusion activities of Peace Corps affiliated organizations, i.e. Peace corps Ukraine, National Peace Corps Association, and Peace Corps Headquarters, including a written response to the NPCA's Connect to the Future Report

Recruited three new Board members in 2021, including one of color.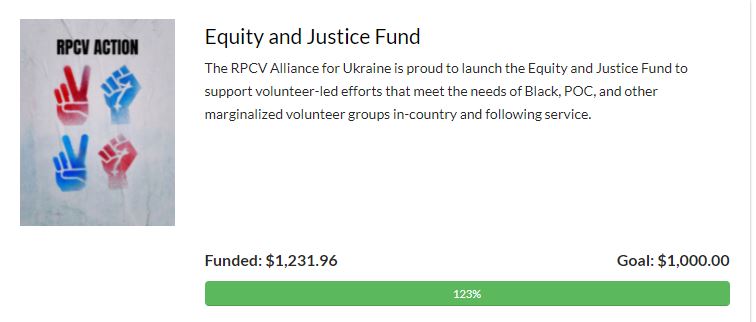 Peace Corps Ukraine
Engaged with RPCV Alliance for UKraine in several Zoom sessions focussed on Intercultural Competence, Diversity, Equity and Inclusion (ICDEI)

Implemented mandatory unconscious bias training of all staff based on Peace Corps global training initiative. See their recent Facebook post for an update.

Revising re-entry orientation and pre- and in-service trainings to include unconscious bias and other ICDEI topics
National Peace Corps Association
Peace Corps Headquarters
In case you missed it, Peace Corps recently released a new publication called Inside Peace Corps, which provides updates on several ICDEI topics.
Also, on May 19, 2021, they held a panel discussion - "RPCVs Advancing Diversity, Equity and Inclusion" - as part of the ongoing 60th Anniversary celebrations. Three RPCVs that are DEI professionals discussed how their Peace Corps service informs their careers. At the end of the program, Deputy Chief of Staff, Jacklyn D. Dinneen presented a status report on the Peace Corps' DEI efforts to date. If you weren't able to attend this event, you can watch a recording online!
---