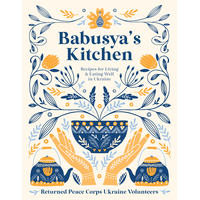 Our team of Returned Peace Corps Ukraine Volunteers is excited to present you with a very special cookbook fundraiser for Ukraine: Babusya's Kitchen.
Babusya's Kitchen was originally written for Volunteers to use during their two years of service in Ukraine. We included contributions from Peace Corps Volunteers, staff, host families, and recipes from our own kitchens that were modified for life in Ukraine, providing Volunteers with the instructions needed to make local dishes at home and to recreate American and international favorites with the ingredients available at their local stores and outdoor markets. We made memories—planting and harvesting at our host family's dacha, making homemade pampushki for borshch, and learning to prepare celebratory dishes such as Easter paska and Christmas kutya. Equally important, we shared our own favorite dishes from home with our adoptive Ukrainian family and friends. Whether banana bread or a traditional American Thanksgiving feast, those shared meals provided an opportunity to reciprocate the extraordinary hospitality of Ukraine.
As of the writing of this new edition in March 2022, there are no U.S. Peace Corps Volunteers in Ukraine—only an unwanted and unprovoked war. As an act of peaceful protest, the RPCV Alliance for Ukraine—in direct support of the Peace Corps' 3rd goal to strengthen Americans' understanding of the world and its people—is republishing Babusya's Kitchen to raise funds for Ukraine relief efforts.
This newly adapted RPCV Alliance for Ukraine edition of Babusya's Kitchen is designed to raise awareness of Ukraine's rich culinary contributions and inspire new American audiences to make a pot of borshch or, for those feeling brave, even try your hand at holodets.
You can purchase a hardcover copy for $30. Funds raised will support humanitarian aid and help preserve Ukraine's cultural legacy.
---