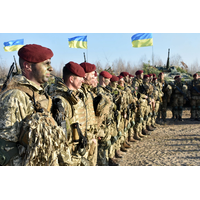 The Alliance for Ukraine is increasingly worried over the escalation of Russian military aggression toward Ukraine. However, there are several ways RPCVs in the US or elsewhere can support Ukrainian friends and colleagues at this time.
Advocate
Let's tell legislators in the US that we care about Ukraine and need to act!
Click here to access an editable letter that will be emailed to President Biden, your Senators, and your Representative in Congress.
Note - we wrote this letter a couple of weeks ago, and the situation is changing rapidly, so you may want to update it with your own additions. Here are some suggestions:
Putin has ordered troops into Donetsk and Luhansk regions, clearly violating the Minsk Protocol. While I commend the recent passage of sanctions against Russia, stronger action to protect Ukraine and deter Russian aggression is needed.

Congress must hold a vote ASAP on the Defending Ukraine Sovereignty Act of 2022.

The US must act to ensure the safety of Ukrainians who may be displaced. We call on the US to direct resources to support internally displaced Ukrainians and those who flee to other countries.

Ukraine is a politically and economically important ally of the United States with a growing global cultural influence.

Many Ukrainians look to the United States and Europe for inspiration as they undertake the hard work of building an inclusive and effective democracy. Their success is vital to global peace, stability, and prosperity.
Have you already emailed your Senators and Representatives? Then give them a phone call! You will likely talk to a staffer who will make note of and relay your message.
Find your Representative's contact information here: https://www.house.gov/representatives/find-your-representative
Find your Senators' contact information here: https://www.senate.gov/general/contacting.htm
Donate to Organizations in Ukraine



The Alliance has compiled a list of ways members can provide monetary support to Ukraine. Consider donating to the following organizations, which have been recommended by Alliance members' friends and colleagues in Ukraine. These organizations make a meaningful impact, provide regular financial reporting, and have the capacity to accept donations from overseas.



Юридична Сотня (The Legal 100) - A Ukrainian nonprofit organization that provides social and legal protection to veterans of the Ukrainian Armed Forces and their families. It works with NATO, the UN, the General Staff of the Armed Forces of Ukraine, and the Ukrainian ministries of veteran affairs, defense, and social affairs. The Legal 100 is a member of the Reanimation Package of Reforms association in Kyiv and the resident of Veteran Hub in Kyiv. Click here to donate through iPay (the page will be in Ukrainian and prompt you for a Ukrainian phone number, but you can skip inputting the number. The option to pay with a bank card or Google Pay will pop up on the next screen).
Товариство Червоного Хреста України (Ukrainian Red Cross Society): The Red Cross provides humanitarian assistance in Ukraine to help mitigate the harms caused by war. Programs include mental health first aid training in conflict-affected regions, landmine and unexploded ordnance safety training for communities near the front, and services to internally displaced persons within Ukraine. You can select which programs you wish to support when you make your donation.
Право на Захист (Right to Protection): With support from the UN Refugee Agency (UNHCR), this organization provides advocacy and legal assistance to internally displaced persons in Ukraine. They also monitor checkpoints along the eastern front to gather information about potential rights violations and the challenges Ukrainians experience when crossing between government-controlled and non-government-controlled areas. Donations can be made on their website via LiqPay.
Повернись Живим ("Return Alive", known as Save Life in English): This organization provides support and services to both active members of the Ukrainian military and to returning veterans to help them readjust to life after war. They also conduct research about the needs of Ukraine's soldiers and veterans to advise on policy and program implementation. Please note that some donations may be used to purchase military supplies. Donations can be made through the fondy.eu platform.


Razom - Razom, Inc. is a nonprofit organization established by Ukrainians in the US to support the people of Ukraine in their pursuit of a democratic society with dignity, justice, and human and civil rights for all. Razom focuses on three activities: 1) Amplifying voices from Ukraine in conversations in the US; 2) Building a bridge of trust between citizens in Ukraine and local government bodies; 3) Being a catalyst for organizations and individuals to do more to build a successful Ukraine. Click to donate.
People in Need - A Czech-based nonprofit organization founded on the ideals of humanism, freedom, equality and solidarity. In Ukraine, PIN helps out in areas controlled by the Ukrainian government as well as in the non-government controlled area of Luhansk region by ensuring people have food, water, and heating. PIN also helps to repair buildings damaged in the conflict, and runs centers for children. Click to donate.
Caritas Ukraine - Catholic relief, development and social service organization. Focuses its activities in the sphere of health care – including home care and palliative care; assistance to children and youth, in activities related to migrant processes, and assistance to individuals in crisis situations. Click to donate.
Organizations recommended by The Kyiv Indpendent:
(multiple organizations are in each category, click the link for more information).
You can also directly support the Kyiv Independent by subscribing on Patreon, and learn more about this new Ukrainian-based English language newspaper in the Alliance's recent article about its establishment.
---