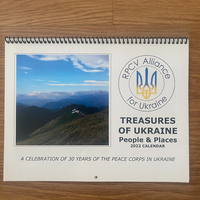 The RPCV Alliance for Ukraine is collecting submissions for the 2023 "Слава Україні" calendar. Any Ukrainian RPCV, Peace Corps Ukraine staff member, or Ukrainian community member may submit up to five photos to be considered for the calendar.
The goal of the 2023 calendar is to showcase the wonders of Ukraine that inspire resilience and give hope. We welcome any and all photos taken in Ukraine that exhibit Ukrainian strength, beauty, and culture.
There are two ways to submit your photos!
Easy Google Form Submission:
To submit an entry, please complete the Google form by Friday, September 30, 2022.
Email Submission:
Submit your photos by email by sending the photos and the information listed below to allianceforukraine@gmail.com by Friday, September 30, 2022.
Your first and last name (you will be given photo credit! Please let us know if you wish to remain anonymous.)

Oblast where picture was taken (must be in Ukraine)

Brief description (50 words max)

You must also submit a signed copy of the Photo Release Form.
Personal information including the specific location of your site, term of service, or any other information that may identify where you serve will NOT be disclosed pursuant to Peace Corps policies.
Entries must be the original work of the entrant. Photos must be a high-resolution color photograph in .jpg format. Photos with watermarks or logos are not permitted. Photos with people are encouraged but will only be accepted if the people in the photographs are not identifiable (no faces) or if you can attest that the people photographed have provided their consent.
Selected photos will be included in the 2023 "Слава Україні" calendar. Proceeds from calendar sales will benefit the RPCV Alliance for Ukraine operations and continued assistance of Ukrainians. Winners will be notified by October 15.
---